With special financing programs and promotional offers for cardholders, the ABC Warehouse Credit Card may prove to be a useful tool to those who regularly spend at ABC Warehouse stores. After activation, any purchase over $200 can yield 6 months of 0% APR financing. However, if you are a casual shopper and are simply looking to acquire a credit card with low rates, we suggest looking elsewhere. After the promotional 0% APR expires, your interest rate for net purchases will be set at 29.99% (APR is subject to change). This rate is extremely high and should be a warning sign to stay away. Should you still be interested in applying, scroll down to our tutorial below to learn how.
Take a moment to review Synchrony Bank's privacy policy to see how the personal information they collect will be used.
Requirements
The requirements to apply for the ABC Warehouse Credit Card are simple:
Be at least 18 years of age
Reside in the United States
Have a Social Security Number
How to Apply
Step 1- Begin by clicking here to navigate to the ABC Warehouse Credit Card application page. You should see the terms and conditions at the top of the application. Read these terms over carefully to get a full understanding of what it is you are applying for. Next, the following information must be specified:
Initial purchase amount (if known)
First name
Last name
Mailing address
Zip code
Primary phone number and type
Email address
Confirm email address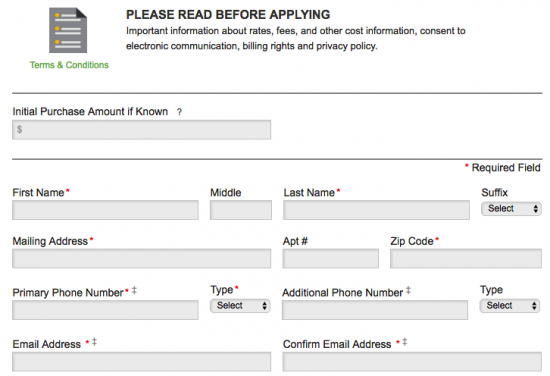 Step 2- Supply your Social Security Number/ITIN, Date of Birth, Monthly Net Income From All Sources and use the drop-down menu to specify your Housing Information. Just below that, select Yes or No to indicate whether or not you are applying with a joint applicant.

Step 3- Here, you can let Synchrony Bank know how you would like to receive your bank statements (electronic or paperless). After making your selection, scroll down to the bottom of the page and click Continue.


Step 4- Here, the terms and conditions for this credit card are displayed once again. Scroll down to the bottom of this window and click Accept to send your card request in to be assessed by Synchrony Bank. You should receive an email shortly regarding the status of your application.

Thank you for letting us guide you through your application process. We hope you found our tutorial useful and we wish you all the best with your new card.