The Ariens 'Get the Gear' Credit Card allows you do exactly what its name implies; get the gear you need to get whatever job it is you need done. With special financing opportunities on various products, you can enjoy no interest for up to 3 years on your new riding mower or snowblower. Unfortunately, the special financing rates are the only bonuses that this card has to offer and applicants should be aware of the outrageously high purchase APR of 26.99% (APR is subject to change). What's even worse than that interest rate is the transaction fee that's required just to take advantage of the promotional offers. For every promotional rate lasting 12 to 18 months, a $50 transaction fee must be paid. This transaction fee is increased to $150 for promotions with a duration of 19 months or more. As you can see, this card outright stinks, to be blunt, and should only be considered by those with a desperate need to purchase equipment from Ariens. If you fall into that category, scroll down to our tutorial below for a detailed look at the application process.
To ensure that you're comfortable with Synchrony Bank's plans on using the personal information they collect from you, review their privacy policy.
Requirements
The requirements for the Ariens 'Get the Gear' Credit Card are similar to most other credit cards. They are:
Being 18 years of age
Being a U.S. resident
Having a valid Social Security Number
Having a valid government issued I.D.
How to Apply
Step 1- As you can see on the online application form, there are a number of empty fields highlighted with an asterisk. Each of these fields must be filled in with your personal information, starting with the following:
Initial purchase amount (if known)
First name
Last name
Mailing address
Zip code
Primary phone number and type
Email address
Confirm email address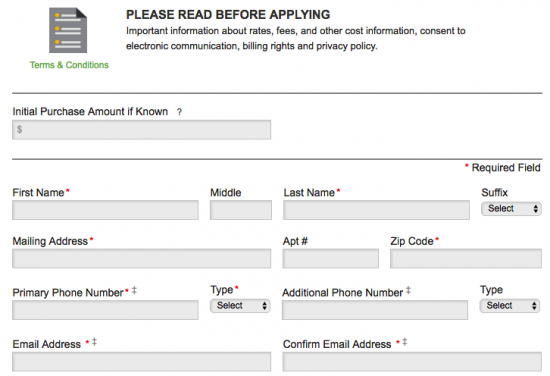 Step 2- Here you must supply Synchrony Bank with your Social Security Number/ITIN, Date of Birth, Housing Information, and Monthly Net Income From All Sources. If you have a joint applicant that you'd like to add to your account, select Yes (located just below that entry fields) and provide that individual's information.

Step 3- Specify which delivery method you'd like to use to receive your bank statements by selecting either I want Electronic Statements or I want Paperless Statements. Once you're certain that all of your personal info has been entered accurately, click Continue.


Step 4- The following page provides you with a review of the terms and conditions. Make sure you've read through this document as it is always important to know exactly what you're applying for. If you agree to the terms, scroll down and click the Accept button to finish your application resulting in the submission of your card request to Synchrony Bank.

Well done! We know that these online applications can sometimes be a bit tricky, we're just glad we could help you through it. Thanks for choosing Card Reviews and best of luck with your new credit card.