The Golfsmith Credit Card is intended for frequent shoppers at Golfsmith outlets or their online store.  Upon the presentation of this card you will get special financing on any purchase over $299 made at a Golfsmith store. This means no interest for 6 months on purchases $299-$498.99 and no interest for 12 months on purchases $499 and over. This special financing is dependant on your paying back the full amount with said 6 or 12-month period, otherwise a 29.99% interest rate applies. 29.99% is an extremely high APR so be wary of this if you plan on applying (APR is subject to change). If you'd like to have financing options on your golf gear, follow this guide on how to apply for a Golfsmith Credit Card.
The Golfsmith Credit Card is issued by Synchrony Bank ("SYNCB").  Please consult their privacy policy before filling your application.
Requirements
To be eligible for this credit card you must fulfill the following criteria:
Be at least 18 years of age
Have a valid US SSN
Have a valid US address
How to Apply
Step 1- Navigate to the Golfsmith credit card page (pictured below) and click the Apply Now link.  This will redirect you the card application on the SYNCB server.
Step 2- You will now be on the Golfsmith Credit Card application page (as pictured below). Enter the following information:
Initial purchase amount (this is meant to help establish your credit limit)
First and last name
Mailing address (apt # if applicable)
ZIP code
Primary phone # and type
Email address
SSN
Date of birth
Type of housing
Monthly net income from all sources
Step 3- Choose whether you'd like to add a joint applicant and whether you want paper or electronic statements.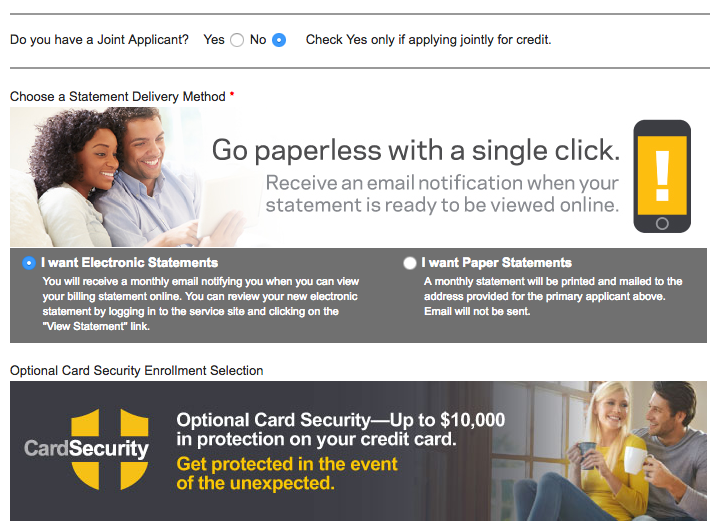 There is an optional card security service that you can purchase, read their security agreement to decide if you'd like to include this option.  If you'd like to purchase the card security tick the box indicating that this is the case (seen below). Review the Golfsmith Credit Card Terms and Conditions and if you comply click the Continue button to complete your application.

Your application is complete! You should receive a response shortly.