The Affinity Credit Union Low Fee MasterCard is the perfect credit card for individuals that want a competitive interest rate and a no-strings-attached, hassle-free credit card. This credit option is one of the more affordable cards that Affinity has to offer, enabling cardholders to establish a positive credit history without having to spend large sums of money annually in order to do so. The Affinity Credit Union Low Fee MasterCard is a mid-tier card offered by CUETS (a financial institution that has partnered with Affinity) and should be viewed as one of the most well-rounded and affordable cards available. If you've decided that the Low Fee MasterCard is the right credit option for you, review our guide below to learn how you can apply today.
Before submitting any personal information online, take a few moments to go over the CUETS privacy policy to see how the data they collect from you will be used.
Requirements
In order to apply for the Affinity Credit Union Low Fee MasterCard, you must meet the following requirements:
You are a resident of Canada and have a Canadian credit record
You are the age of majority in your province or territory
You have not filed bankruptcy in the last 7 years and have no seriously late payments
How to Apply
Step 1- Click here to access the card application webpage where you should see a list of each card that is on offer from Affinity and CUETS. Scroll through the list until you've landed on the Low Fee MasterCard Credit Card. To proceed, click on the Apply now link.

Step 2- You must now specify which credit union you are affiliated with. This process can be accomplished by selecting Yes and typing "Affinity Credit Union" into the empty space provided. Once entered, click Continue.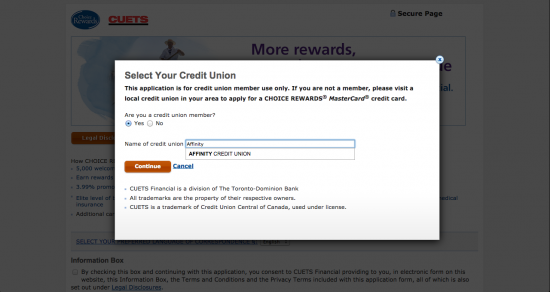 Step 3- At the beginning of this page, you should see the Information Box heading which contains a small blurb about the terms and conditions as well as the privacy terms. The small box found here must be checked in order to provide confirmation that you are able to electronically receive the legal disclosures that are included with your application.

Step 4- Scroll down to the Primary Applicant's Information heading and you should see a series of empty fields and drop-down menus highlighted with a red asterisk. First, select Yes to indicate that you are indeed a Canadian resident, then supply the following information:
First name
Last name
Home address
City
Province
Postal code
Housing status
Monthly payment
Years at current address
Is your mailing address different from your current address? (y/n)
Home phone number
Mobile phone number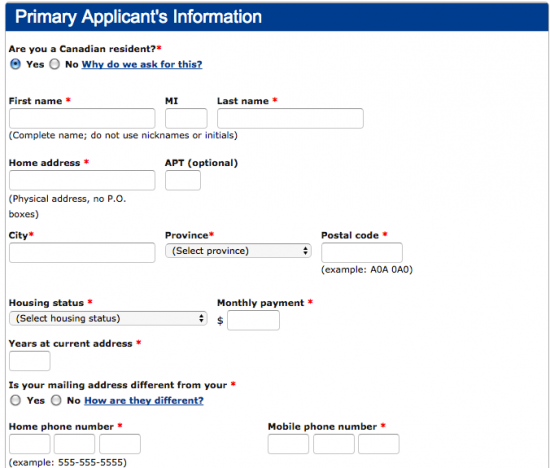 Step 5- This step is simple; enter in your Date of birth and your Mother's maiden name.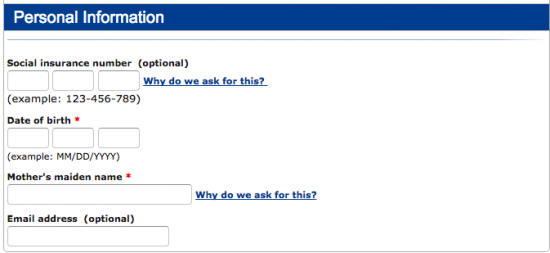 Step 6- Under the Employment Information heading, the following details must be specified:
Employment status
Company name or employer
Number of years with company
Occupation type
Occupation
Describe your position or business
Work phone number
Your income
Total annual household income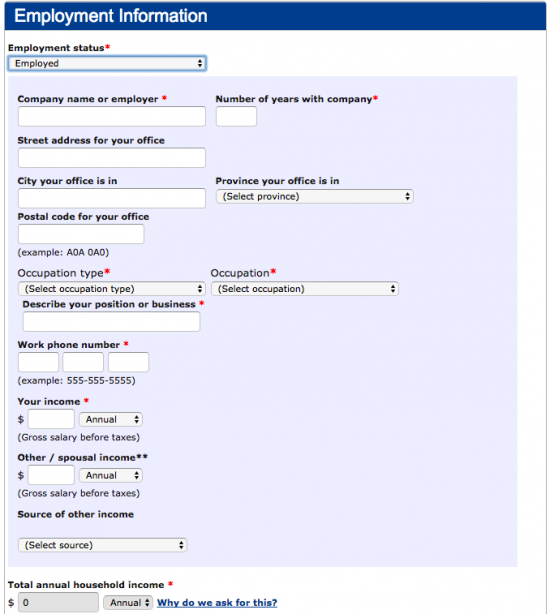 Step 7- The tasks performable in this step are optional and each may be skipped if you so desire. Here, you may add an authorized user to your account, perform a balance transfer to consolidate your previous balances into one bill, and you may also purchase balance transfer protection insurance. When you're ready, click Continue to proceed.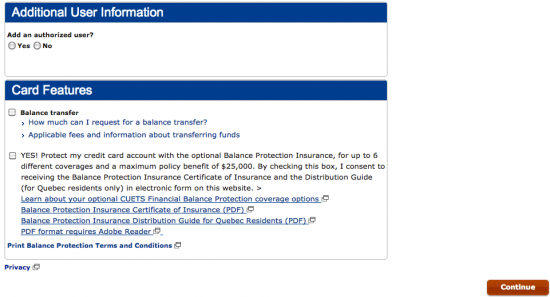 Step 8- On this page, you are provided with a review of the terms and conditions that state the rates and fees for your credit card, among other things. Go over this document carefully and, if you agree to these terms, indicate this by checking the small box located below the terms window.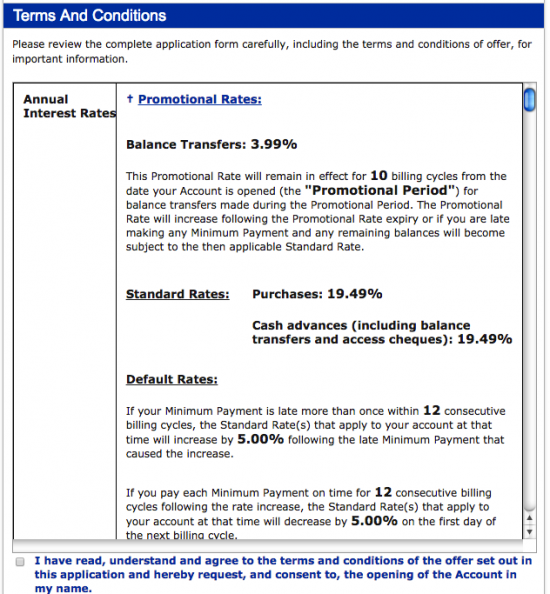 Step 9- Lastly and most importantly, your application must be submitted to CUETS for assessment. You can accomplish this by scrolling down to the bottom of the page and clicking the Continue button. With your card request sent in, the work is done and you can relax and await confirmation from CUETS regarding the status of your application. We hope that you found this tutorial helpful and we wish you all the best with your new credit card.