Are you having difficulty accessing the online account associated with your Bancorpsouth Platinum Visa Credit Card? Well look no further, our comprehensive tutorial has been created to answer all your online banking questions, getting you on your way to managing your new Visa from your laptop, desktop, smartphone, or any other internet-connected device. We've provided instructions on how to log into your account, on how to enroll in online banking, and on how to activate your card once it arrives. With access to your online account, you will be able to stay on top of your credit card finances, paying bills, transferring balances, reviewing e-statements and tracking your spending habits at your convenience. Scroll down and review our guide to get started off on the right foot.
If you are unsure on how your personal information is going to be handled when dealing with the ensuing web forms, we recommend that you take a quick look at the privacy policy.
How to Login
You first need to navigate to the BancorpSouth homepage. Follow our link and, once the webpage has been accessed, click the Login button found in the Login to Online Banking window.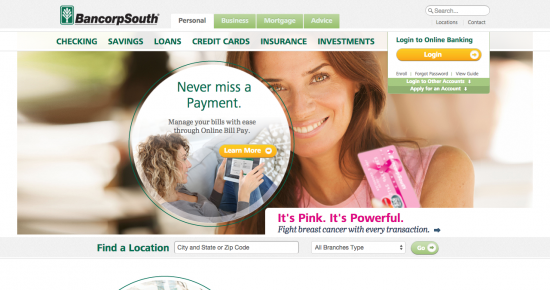 On the secondary page, supply your User ID and Password in the blank spaces provided and then click the Login link. Providing your information was submitted accurately, you should be looking at your online banking homepage. If you have forgotten your login information, click the Forgot Password? link and you will be redirected to a retrieval page.
On this page, you will be required to enter your User ID and Date of Birth before clicking the Next button to begin the retrieval process. Further information and a new password will need to be provided on the ensuing pages in order to regain account access.

Activation/Registration
BancorpSouth cards can be activated by calling the customer service number posted directly above. Speak with one of the bank's agents to get your card up and running so that it can be used to make purchases and can be monitored using online banking. To register for an online account, click the Secure Registration link above to be redirected to the BancorpSouth homepage. Once there, locate the Login to Online Banking window and click the Enroll option.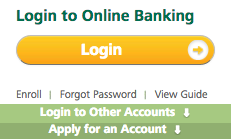 The first thing you'll have to do is read through the online banking services terms and conditions. If you accept, click the Accept button and continue onward.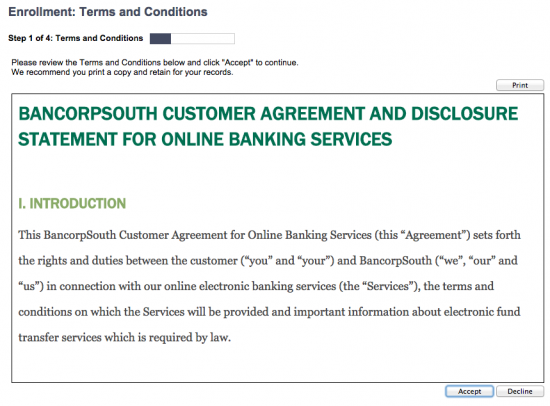 The second step will have you entering the following identity information in the spaces provided before clicking the Continue button:
Customer number
Social security number
Day phone
E-mail address
Confirm e-mail address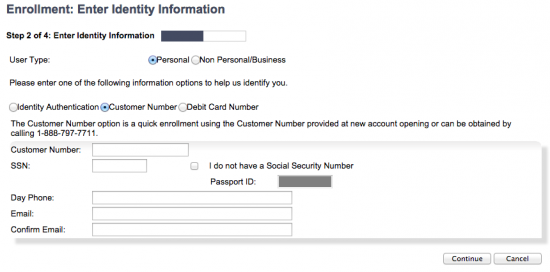 The third and fourth steps will ask you to create your security credentials and review the information submitted within the application. Once these two steps have been completed, you will be able to access your account to keep an eye on your freshly activated Bancorpsouth Platinum Visa Credit Card. That's all it takes! We hope this tutorial was helpful and we wish you the best of luck in all future banking endeavors.