The only good reason to consider applying for the Berkshire Bank Visa Bonus Rewards Card or Bonus Rewards PLUS Card is that you are already a client of Berkshire Bank and it's a convenient option for you. These cards' rewards points are accumulated at a rate of only 1.25 points (for the Bonus Rewards) or 1.5 points (for the Bonus Rewards PLUS) per dollar spent each month. With no signup bonus points, you will be required to spend a lot of money on your card just to accumulate enough points for redemption to be made possible. The Bonus Rewards PLUS has an annual fee of $50, which seems like a lot to pay for a 1.5/dollar spent rewards program (there is no annual fee for the other option). New cardholders do get a 0% introductory APR for the first 6 billing cycles and a cash reward after their first purchase. However, with its average APR and standard rewards program, you can probably find a better credit card option that meets your needs. If you would like to apply for either of these credit cards, you can scroll down and follow our step-by-step guide on how to complete the online application form.
Before you submit any of your personal or financial information, we recommend that you take a look at the EFS privacy policy.
Requirements
Applicants for this credit card must meet the following requirements to be eligible:
Be at least 18 years of age
Have a valid US address
Have a valid SSN
How to Apply
Step 1 – To begin, navigate to the Berkshire Bank credit card suite page and click the Apply Now link.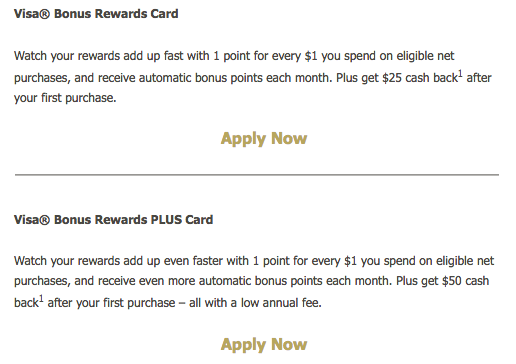 The below window will pop up, notifying you that you are leaving the Berkshire Bank website. Click Continue.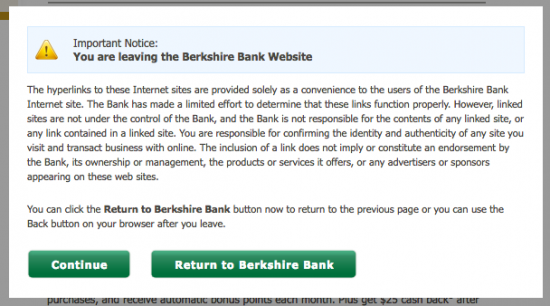 Step 2 – Now, locate the card that you wish to apply for and click Apply Now beneath the card's title to get to the next step.

Step 3 – Begin filling out out your application by entering the following Personal Information:
Full name
Date of birth
SSN or Tax ID #
Country of citizenship
Alternate country of citizenship
Country of permanent residence
Primary and mobile phone number
Email address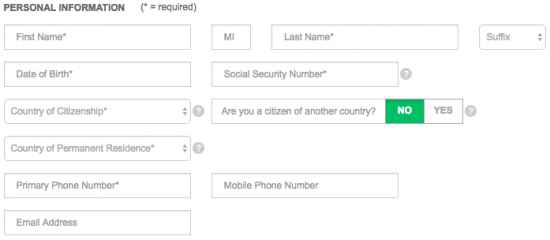 Step 4 – Next, you will be asked to supply all of the below information into the Housing Information section.
Street address
City
State
ZIP code
Time at address
Housing status
Monthly payment
Alternate mailing address (if applicable)

Step 5 – At this juncture you will be asked to enter the following information into the Income and Employment Information section:
Employment status
Employer
Occupation
Annual income
Other income (if applicable)
Below that, if you are a current customer of Berkshire Bank, select Yes beside each account or service that you have with them.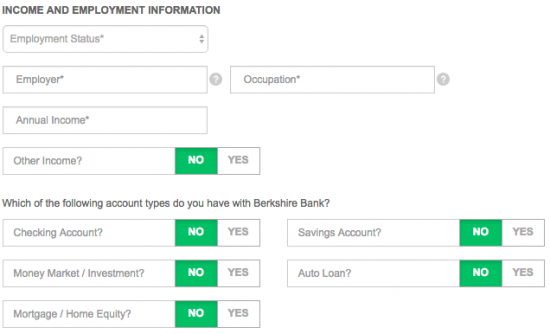 Step 6 – Here, if you would like to transfer an existing credit card balance into your new account, select Yes beneath Balance Transfers and provide the necessary information. Next, if you would like to add a Joint Applicant or an Authorized User, select Yes next to the options you would like to add and provide the information required before continuing.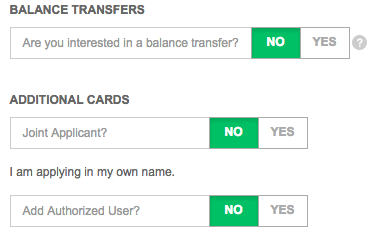 Step 7 – Before agreeing to the terms and conditions for the credit card you are applying for, take a moment to read through them. If you consent to these terms, check the I accept the Terms and Conditions box and click Submit to submit your application for review.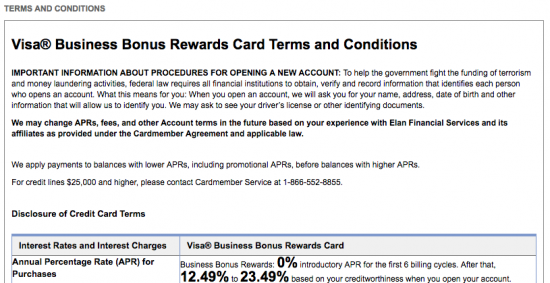 Your application is finished and submitted for review! Now all you have to do is sit back and wait for a response (which could take up to a week). We wish you the best of luck and thank you for visiting CardReviews.org!