The Bon-Ton Credit Card is perfect for those who regularly find themselves shopping at Bon-Ton. With Bon-Ton's points-based rewards system, every $200 spent earns a $20 gift card. What renders the rewards program even better is that the gift card can be used on any of their apparel, cosmetics, home furnishings, bedding and furniture.
If you already have a Bon-Ton Credit Card and are wondering how to login or register your card, this page has all of the information and links you will need.
Make a Payment
Making a payment, checking your transaction history and updating your account information can all be easily accomplished by clicking on the link provided on this page and entering your username and password. Users can also track their rewards points and find out about special sale events available only to card holders.
If this is your first time visiting the login page, you will need to register your card. Check the next section for simply-put steps that explain how to register and activate your Bon-Ton Credit Card.
Activation
In order to securely activate your card, head over to the link above. You will need your Bon-Ton Credit Card account number. This number can be found on a statement that has been sent in the mail to your address.
Click "Yes" when the page asks you if you know your number.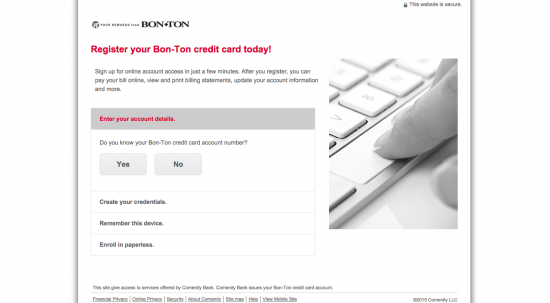 Now enter your account number. Also enter your social security number and ZIP code for security purposes. Next, click "Continue".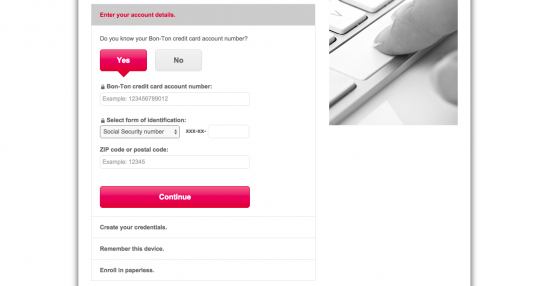 After creating your credentials, deciding whether or not you'd like your device remembered, and deciding whether or not you'd like to enrol in paperless billing, you're all finished! Your Bon-Ton Credit Card is now securely activated and you are able to login and access your card account online.