The Capital One Platinum Credit Card is a below-average credit option that requires meticulous maintenance of one's outstanding balance to be anything other than a black-hole for one's expendable income, at best. While there is the benefit of no annual fee, the variable interest percentage of 24.99% for both purchases and cash advances is enough of a red flag that any individual with the ability to go elsewhere for their credit needs should do so (APR is subject to change). The bottom line with this card is that there are just so many better cards on the market. However that may be, we have gone above and beyond for our readers. While it is not recommended that the Capital One Platinum Credit Card even be applied for due to its ludicrous interest percentages, we have created a helpful application guide that will walk you through everything you need to know about the application process. Simply scroll down the page to find the guide we have created for you.
Before you continue, we feel that it is important to review the Capital One privacy policy so that you completely understand how your personal information is going to be used and protected.
Requirements
For the application to be completed successfully, applicants must:
Be at least 18 years of age or older
Reside in the United States of America
Have a valid Social Security Number
How to Apply
Step 1- Click here to access the card summary page detailing the features available with this credit option. From there, select the Apply Now link to proceed.

Step 2- Enter your First Name, Last Name, Date of Birth, and Social Security Number. Just below that, select Yes or No to indicate whether or not you are a US citizen.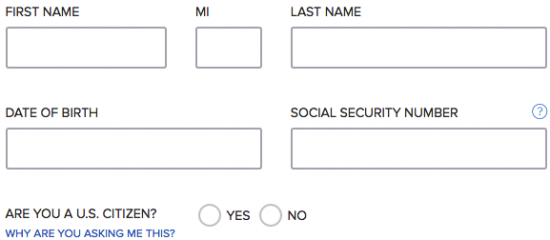 Step 3- Next, type in your Residential Address, Email Address, and Primary Phone Number. If you have an alternate mailing address, click Add mailing address and specify that information.

Step 4- Use the two drop-down menus to indicate the type of bank account you currently have as well as your Employment Status. You must also provide your Total Annual Income and Monthly Rent/Mortgage payment. If you're interested in receiving blank checks for cash advances, click Yes.

Step 5- Here, Capital One would like to verify that you will be able to electronically receive and review important statements regarding your credit card. Provide verification by checking the small box. If you'd like, you can take this opportunity to change your language of preference.

Step 6- The terms and conditions for this credit card are displayed at the bottom of the page. Review this document to ensure that you understand what exactly it is you are applying for. When you're ready to proceed, click the green Continue button.


Step 7- Lastly, click Submit Application and your card request will be sent to Capital One for assessment, thus completing this Card Reviews tutorial. That's all for now! Best of luck with your new Capital One Platinum Credit Card.