Capital One offers a large variety of credit options, one being the Capital One Venture Rewards Credit Card. What sets this card apart from the other available cards is its unique rewards program that enables users to earn bonus miles from their purchases. If you're planning a trip in the near future, this card is great as an initial bonus of 40,000 miles will be awarded after spending $3,000 within the first 3 months of card membership. However, the card does come with an annual fee of $59 which, fortunately, is waived for your first year with the card. On a separate note, there are three available interest rates that you could potentially receive, ranging from good to average. If your credit score is excellent, your purchase APR could be as low as 13.49% (APR is subject to change). This rate, on the other hand, can reach all the way up to 23.49%, so be sure to check your credit score before applying. If you're interested in acquiring this card, take a look at the application tutorial we have created for you, available below.
All applicants are encouraged to read through the Capital One privacy policy before submitting any information to their system.
Requirements
To ensure a successful application, the following requirements must be met:
Be at least eighteen (18) years of age
Have a valid US SSN
Have a valid US street address
How to Apply
Step 1- To begin, head over to the card summary page. You should see an image of the card on the right side of your screen. Just below it, click the Apply Now button to proceed to the online form.

Step 2- With the form accessed, you can begin entering in your personal details. The exact info that's required is as follows:
Full name
Date of birth
SSN
Are you a US citizen? (y/n)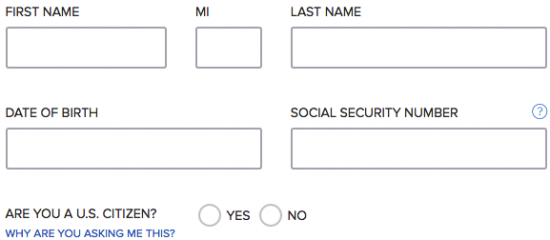 Step 3- Next, supply your Residential Address, Email Address, and your Primary Phone Number. Click the Add mailing address link if you'd like to specify an alternate location to receive notices from Capital One.

Step 4- Using the two drop-down menus, indicate which type of account you currently have as well as your Employment Status. Continue by entering your Total Annual Income and Monthly Rent/Mortgage payment. Should you be interested in acquiring blank checks for cash advances, click the Yes option.

Step 5- The selectable box (pictured below) must be checked in order to provide confirmation that you are able to electronically receive important details concerning your credit card. Below that, you have the option to change your language preference to spanish.

Step 6- The terms and conditions document for this particular card can be found at the bottom of the page. It is highly advisable that you review the terms to ensure that you know what you're applying for. If you are in compliance to the terms, click Continue to proceed to the last page of the application process.
Step 7- The final thing you need to do before finishing your card request is click the Submit Application button. That's all there is to it! Capital One will review your information and send confirmation along your way shortly. We hope that your application is a successful one and we thank you for choosing Card Reviews as your guide through the application process.