Welcome to the official Card Reviews application guide for the Capital One VentureOne Rewards Credit Card. This credit card is one of several Capital One cards that offers users a rebate on their net purchases. The rebate received for this particular card comes in the form of bonus miles which can be used for savings on, of course, flights, but also cash back, gift cards, and more. If you end up being approved for the card, you will receive an introductory 0% APR that will last for the entire first year of card membership. After that rate expires, your APR will be set at either 12.49%, 17.49%, or 22.49%, depending on your credit score (APR is subject to change). Even with an average interest rate, the card is still a good credit option due to its $0 annual fee and strong rewards program. If you're interested in applying, our step-by-step application tutorial can be found below.
It is advised that anyone preparing to interact with Capital One reviews their privacy policy to make sure that all personal information is being handled correctly.
Requirements
Anyone intending to apply must:
Be at least eighteen (18) years of age
Have a valid US SSN
Have a valid US street address
How to Apply
Step 1- Navigate to the card summary page and select Apply now in order to be redirected to the secure application page.

Step 2- On the online form, begin entering your personal details in the empty fields, starting with the following:
Full name
Date of birth
SSN
Are you a US citizen? (y/n)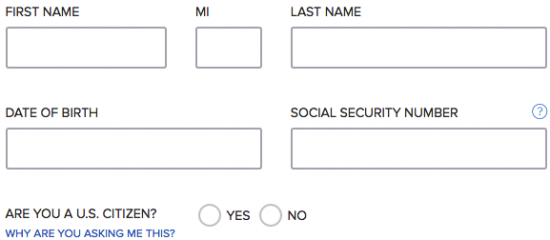 Step 3- Next, supply your Residential Address, Email Address, and Primary Phone Number. If you have an alternate mailing address that you would like to disclose, select the Add mailing address link and enter the new address information.

Step 4- Under the Do You Have Any Bank Accounts? heading, indicate which type of bank account you currently have. Continue by specifying your Employment Status, Total Annual Income, Monthly Rent/Mortgage payment, and select Yes if you'd like to receive blank checks for cash advances.

Step 5- Since a large amount of important credit card information will be sent to you electronically, Capital One would like to ensure that you are fully capable of receiving and reviewing this information. To confirm that you are indeed able to receive and review their important disclosures, check the small selectable box. Just below that, you have the ability to change your language preference to spanish.

Step 6- Scroll down to the bottom of the page and you should see the terms and conditions window. We recommend reviewing the information within this window to make certain that you are comfortable with what it is you are applying for. If you consent to the terms, click Continue to proceed.


Step 7- In this last step, you simply need to click the Submit Application button and your card request will be sent to Capital One for an official review.

You have just finished the application process for the Capital One VentureOne Rewards Credit Card. We would like to thank you for using our services and we wish you nothing but the best with your new card.