Are you looking to apply for the Capital One QuicksilverOne Credit Card? Well you've come to the right place! This webpage will show you exactly what needs to be done in order to submit a successfully completed application. However, before starting the online application process, let's take a quick look at what makes this credit card unique compared to the other cards Capital One has to offer. For starters, this credit card is catered to those with an average credit rating. If you're credit rating is good to excellent, you might want to look at the Capital One Quicksilver Credit Card which has substantially lower interest rates and no annual fee. The standard Quicksilver card also comes with the added bonus of an introductory 0% APR lasting for the first 9 months of card membership. Otherwise, both cards are relatively similar. The Capital One QuicksilverOne Credit Card isn't necessarily the best card that Capital One has available, but it should still gain the interest of those who lack the credit rating necessary to acquire some of the more prestigious cards on the market. If you'd like to apply, scroll down and review the tutorial below.
Before embarking on your application, take a moment to review the Capital One privacy policy to ensure that you're aware of the way in which your personal information is going to be handled.
Requirements
To apply for the Capital One QuicksilverOne Credit Card, the following must apply:
Be at least eighteen (18) years of age
Have a valid US SSN
Have a valid US street address
How to Apply
Step 1- Begin by navigating to the card summary page. Once the page has loaded, select the green Apply Now button located just below the card image.

Step 2- This page is where your personal information is required. Start by entering your First Name, Last Name, Date of Birth, and your Social Security Number. Below those fields, select Yes or No to indicate whether or not you are a US citizen.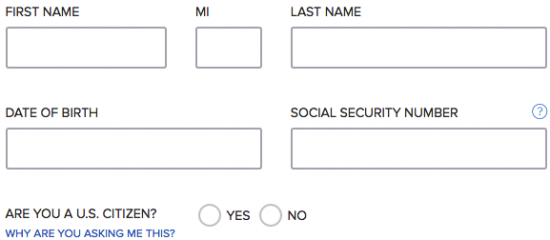 Step 3- Here, type in your Residential Address, Email Address, and your Primary Phone Number. If you'd like to receive notifications from Capital One at a different address, click Add mailing address and supply that address information.

Step 4- Use the two drop-down menus to specify your type of bank account as well as your Employment Status. You must also supply your Total Annual Income and your Monthly Rent/Mortgage payment. Optionally, select Yes if you'd like to receive blank checks for cash advances.

Step 5- Capital One would like to confirm that you are able to electronically receive important information regarding your credit card. To provide confirmation, check the small selectable box seen below. The important card information can be sent to you in spanish if you'd like. Click the Spanish option to change your language preference.

Step 6- The terms and conditions for this credit card can be found on the bottom of the page. We recommend that you review this document over carefully to ensure that you understand what rates and fees you will be receiving if approved for the card. Once you've read the document, click Continue to proceed.


Step 7- Now that your application is complete, click the Submit Application button to have your card request sent in to Capital One for an official review. That's all there is to it! We hope you found our tutorial helpful and we wish you all the best with your new card.