Applying for the Carnival Cruises Credit Card, powered by Barclaycard and thus subject to their privacy policy, is a simple process that will have you earning marginal rewards on the open seas in no time. For an in-depth step-by-step please scroll down. Good luck!
Requirements
Barclaycards has a specific set of requirements that all applicants must meet if they with to be fully considered for a Carnival Cruise credit card. They are as follows:
Be at least 18 years old
Have a valid US address
Have a valid Social Security number
Have other valid government photo-ID
How to Apply
The application is available after navigating to this page and clicking the 'apply now' link.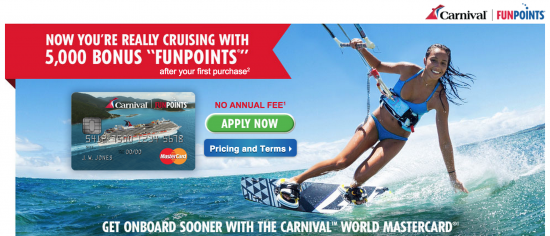 Step 1- General Information
You will need, at first, to provide some basic personal information in order to have Barclaycard properly affirm your identity. The specific information required is as follows:
Legal Name
Permanent Address
Length of time spent at said address
Residence Status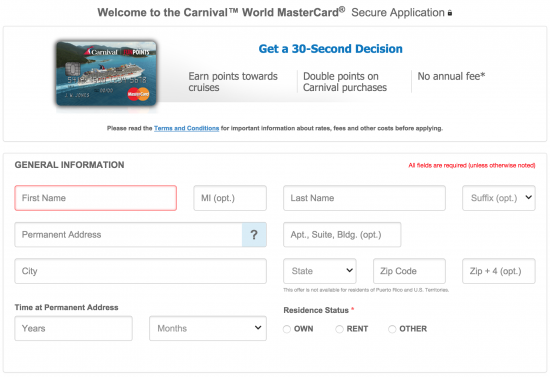 Step 2- Employment and Financial Information
You will now need to put your chips on the table, financially speaking. It is by this information and no other that Barclaycard will determine your creditworthiness and thus your viability as a future cardholder for Carnival Cruises. Ensure that the information you enter is truthful and up-to-date. The exact information you will need to have on hand is as follows:
Occupation
Total Income
Assets

You also, for some reason, have the ability to opt in for an express delivery option for your card, should you be approved, for the low low price of $15.00.
Step 3- Contact Information
You will be asked, as is routine, to submit valid contact info so the Barclaycard and Carnival can contact you regarding your account, but also for solicitation. To find out exactly to what extent they can and will capitalize upon this and other information you submit in the process of applying for this card please read the privacy policy carefully.

Step 4- Security Information
In this section you will submit your most precious data:
Social Security Number
Date of Birth
Mother's Maiden Name

Step 5- Paperless Statements
If you are a generally conscientious citizen of the world you have a chance to flex that side of your personality at this point in the application by opting for paperless billing, an option that relieves you of getting mail like some relic of a bygone era and that lightens your carbon footprint by an infinitely small margin.

Step 6- Balance Transfers
If you are interested in transferring the remaining balance from another major credit card of yours onto your new Barclaycard credit card then you are in luck, as Barclaycard offers this very service right here in the midst of the application. Simply enter the card information and the amount you desire to transfer (minimum $100, maximum $20,000).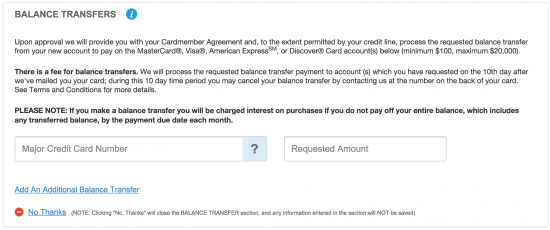 Step 7- Legal Terms and Conditions
Finally, if all of your information is correct, and if you have read carefully the Terms and Conditions, then submit the application and await a response.
If you are interested in tracking the progress of your application then go to this page, supported by Barclaycard, for the most up-to-date information regarding your application.