Casey's Visa Platinum Credit Card is an excellent option for those looking for a lower APR and a great rewards program associated with Casey's General Store. It is issued by UMB Financial Corporation, therefore it is there that you will be required to activate your new Visa as well as enroll for an online account. Once these tasks have been achieved, you will have the convenience of online banking at your fingertips. In no time at all you'll be reviewing statements, making payments, updating personal information, etc. If you've recently received your card in the mail and you're struggling with the UMB website, allow us to clarify the activation/registration process with our instructional guide below.
Take a look at the UMB privacy policy before you enter information of a personal or financial nature into their web portal.
How to Login
On the UMB homepage, you should see the the login menu on the far left. There, you are required to enter your User ID before clicking Next.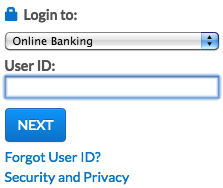 You may be required to supply the answer to your security question. If this is the case, enter your answer in the available field and click Submit. The following page will have you entering in your password before your online account information will be made accessible to you.

The Forgot User ID? button (located within the login menu) is the one to press if your security credentials have been forgotten. You are essentially required to re-enroll in your online banking account to gain entry to UMB's online banking portal. Click Next: Continue to re-enroll and follow the subsequent instructions to create your new user ID and password. Once complete, you will be able to use your new pieces of ID to access your account.
Activation/Registration
You can activate your Casey's Platinum Visa Credit Card by calling the number above or by registering for an online account with UMB. To perform the latter option, navigate to the UMB online banking page attached to the Secure Registration link posted above. To verify your identity, the following information is required:
Account type
Card number
Last five digits of SSN
Expiration date
Statement ZIP code
Click Verify your account to continue onto the proceeding steps which will require that you confirm your information, create your login credentials as well as a series of security questions. All this must be done before account access is granted and online card activation is possible.

With your account registered with UMB, you can begin to fully manage your card on their online banking portal. From our team here at Card Reviews, we thank you for using our services and we wish you all the best.