Card-carrying members of the Mini Platinum Visa Credit Card are an exclusive group of individuals fortunate enough to benefit from Mini Financial Services online banking portal. This portal allows users to keep better track of their expenditures by viewing statements, paying bills and transferring funds from their desktop or mobile device. What a world we live in. Some people might run into a few snags in the process of registering for an online account. We have written out instructions below on how to enroll and log into your online account, as well as how to activate your card, should you be find it challenging to complete these processes.
Take a read through this privacy policy to make sure you fully comprehend the methods in which Mini Financial Services' shares your information.
How to Login
It's very convenient that Mini Financial Services exists to handle the Mini Platinum Visa Credit Card, this way everything you need is under the same roof, so to speak. You can get to your account from any of the Mini websites but we've linked the Mini card account page here for your convenience. Once the page is loaded you can enter your User Name and Password in the appropriate fields. Then click Log In and, if the credentials you entered are correct, you'll gain entry to your online banking account.

If you can't remember your password, they have created a solution to this problem. Click on the Forgot Password link. A page will load wherein you can reset your password by entering your account number, name, last 4 digits of social security number, expiration date and CVV number.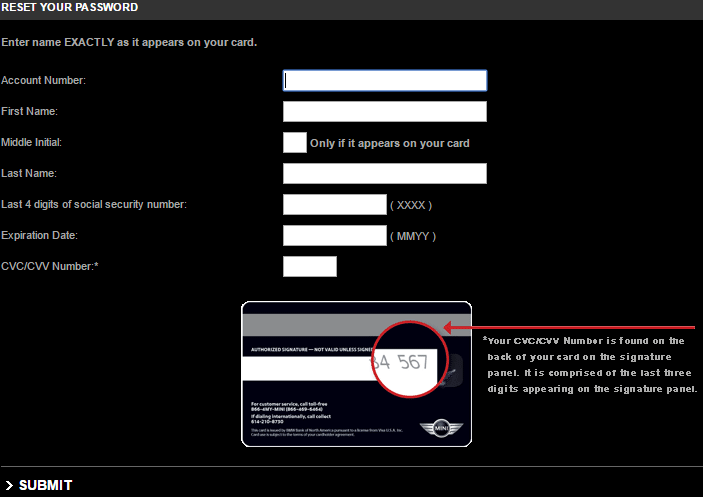 Activation/Registration
Activation #: 1 (866) 469-6464
You are provided with two different options for activating your Mini Platinum Visa Credit Card. Either call the number above to activate your card or follow this Online Activation link to complete the process from your computer. If you choose the latter option, you'll see a page similar to the window below where you will need to enter the following information before clicking Submit:
Account number
Name
Last 4 digits of SSN
Expiration date
CVC/CVV number
Date of birth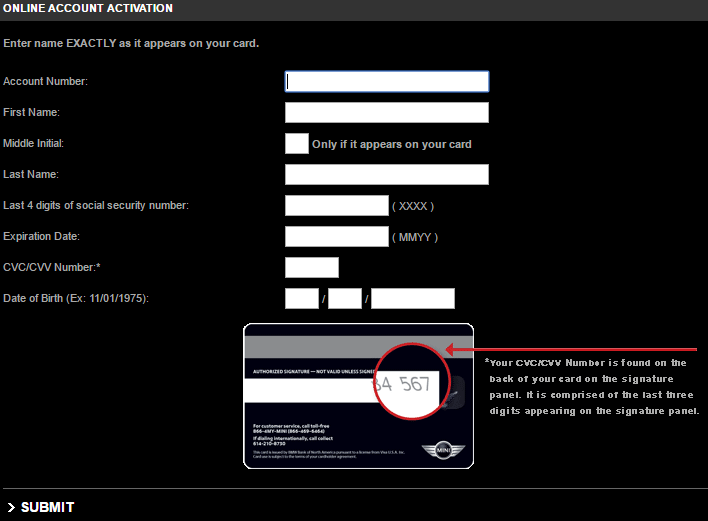 Now that your card is activated, you will find it extremely advantageous to enroll for an online banking account. To execute this procedure, click on the Secure Registration link we have provided. You are asked to enter the following information to set up an online account:
Account number
Name
Last 4 digits of social security number
Email (and confirm this email address)
Mother's maiden name
Expiration date
CVC/CVV Number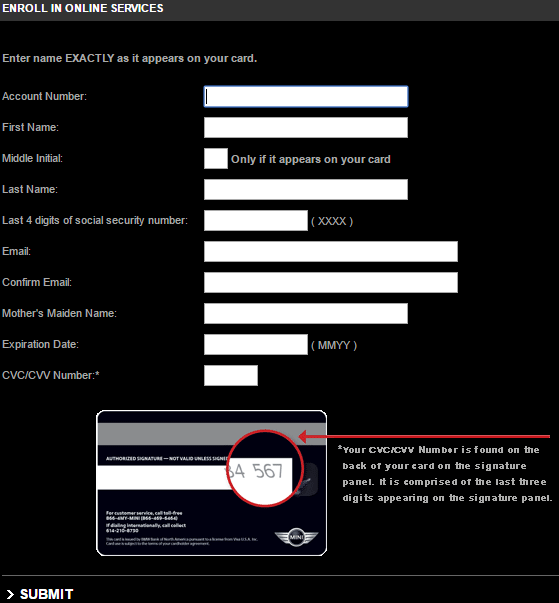 Click Submit once all the data has been provided. You will have to create a user name and password, which you can then use to gain access to your new online banking account.