The Mini Platinum Visa Credit Card is a snazzy looking, customizable credit card that will most certainly peak the interest of you Mini owners and enthusiasts. However, before jumping the gun and applying for this credit card, let's take a look at some of it's features. The Mini Platinum Visa Credit Card offers a rewards program, but one that is mostly advantageous if you make frequent purchases at Mini dealerships or on motor parts/services. You will earn 2 points for every $1 spent at dealerships or service stations, while earning 1 point per $1 spent on all other purchases. Your limit per month is 20,000 points (depending on the credit limit of your card) and the points expire after 5 years. They offer 0% APR for the first 15 months, after which you will pay anywhere from 13.49% to 24.49% depending on your credit score (APR is subject to change). If you compare this information with other rewards cards you might find a lot of them offer a much better rewards program with a lower APR. Maybe that isn't as important to you and you want a card you can flash around with pride. The coolest thing about the Mini Platinum Visa Credit Card is the customization you can apply to your card. You can pick the color of the paint job, the roof and side mirrors, as well as change other detailing such as wheels and rims. Should you decide this card meets your expectations, please allow us to guide you through the step by step instructions written out below.
Before we continue, take a look at the privacy policy provided by Mini Financial Services to familiarize yourself with their approach to information sharing.
Requirements
Applicants must meet the following requirements:
You must be 18 years of age
You must be a US citizen
How to Apply
Step 1 – Navigate to the Mini Platinum Visa Credit Card homepage by following this link. There is an Apply Now link you'll need to click in order to proceed.

Step 2 – Now you'll need to fill in the application form, starting with your name, address, phone number and how long you've lived at your current address.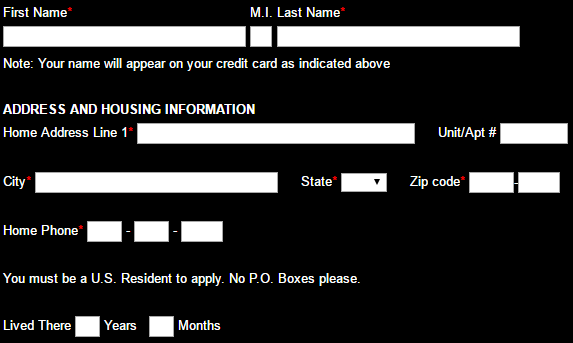 Step 3 – At this juncture you're asked to enter your social security number, date of birth, mother's maiden name and email address.

Step 4 – Information about your job will be required in this next step. Provide your employer, position, work phone, annual income and other income.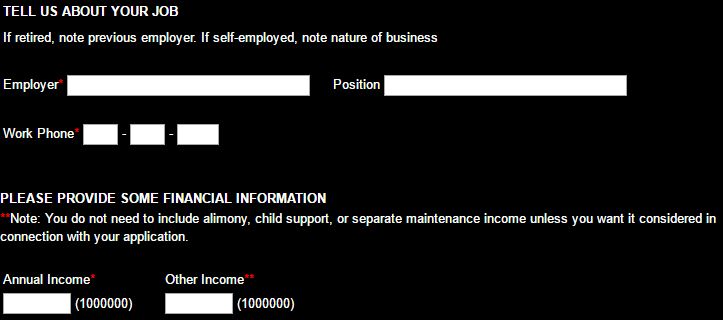 Step 5 – Should you wish to add an another user to your account, you may do so by selecting Yes and providing the additional cardholders first and last name. If you don't want another member on the account, skip this step.

Step 6 – After reviewing and agreeing to the terms and conditions and cardholder agreement, you can enter your promotion number and/or dealer code in the appropriate boxes. If you don't have one of those numbers, skip that step. Finally, select one of the options from the How did you hear about us? drop-down menu and click Continue.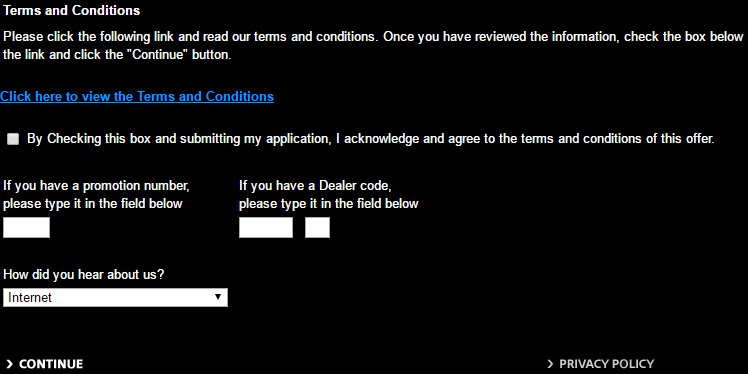 The application process is now complete. Hopefully this tutorial has been helpful to you and your application will be approved. Best of luck!