Interested in a Citi ThankYou Credit Card? You have three options to choose from: Preferred, Premier, and College Preferred. Each card has it's own variations on the ThankYou program, as well as fee, rate, and reward differences. To simplify your decision we have posted the table below which outlines the specific differences you can expect to see from these cards.
You will be able to select the desired card once you begin the application process, but before we dive in we recommend you take a look at the Citi privacy policy before submitting to them any of your private data.
Requirements
You must meet the requirements below to be eligible for this card.
Be at least 18 years of age
Have a valid US street Address
Have a valid Social Security Number
How to Apply
To select your card navigate to this webpage (shown below) and select the ThankYou card which most closely fits your needs by clicking learn more.
Follow the link to the card summary page which will house the next step button. Select the link in order to be redirected to the secure application.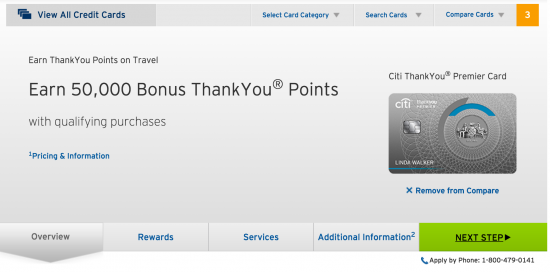 Step 1- Personal Information
Enter the following personal data into the first section of the application:
Name
Address
Telephone Number
Email Address
Date of Birth
Social Security Number
Step 2- Security Word
Decide upon a security word and hint at this juncture.

Step 3- Financial Information
Submit the following financial data at this point: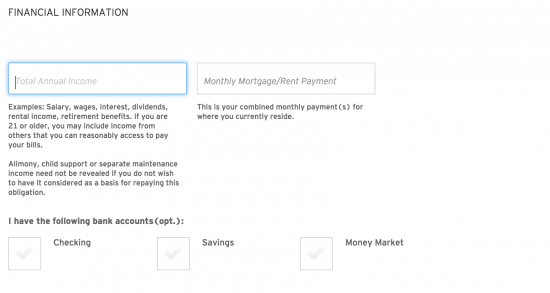 Step 4- Authorized Users
You may add additional users to your card at this point in the application.

Step 5- Electronic Disclosures
Citi asks you to assent to their disclosures related to electronic billing at this point. Review the Electronic Disclosures and Privacy Policy and select I agree to continue.

Step 6- Terms and Conditions
Take a minute to look over the terms and conditions for your preferred card (Preferred, Premier, College) and, if you agree to them, select submit to finalize the application. good luck!