For those who have pre-existing accounts with Citizens bank, the Citizen's Bank Clear Value Mastercard may be a logical credit option for you. Although it doesn't offer a rewards program of any kind, it advertises the banks lowest APR rates from 13.99%-19.99%. Also it allows for a 21 day grace period on all purchases. If you carry a bit more of a balance, this may be the favorable option over CB's Cash Back Credit Card. For more information on how to apply, just scroll down.
Before entering any information onto the site, it is recommended that you read through the online privacy policy.
How to Apply
On the card summary page you will find a general overview of the card's benefits as well as the secure application which can be accessed by clicking apply now.
Be sure to read over the terms and conditions, select the box that says you agree and click continue in order to do so.

Step 2– Begin application
On the succeeding page, click begin application to move onto the next step.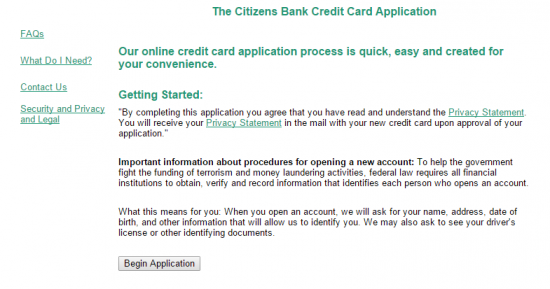 Step 3- Bank accounts
If you have pre-existing accounts with CB, select them accordingly.

Step 4-Personal Information
You will then be asked to fill out the following personal information:
Full name
SSN
Birthday
Mother's Maiden Name
Phone number(s)
Email Address
Full Mailing Address
Residential Address (if different)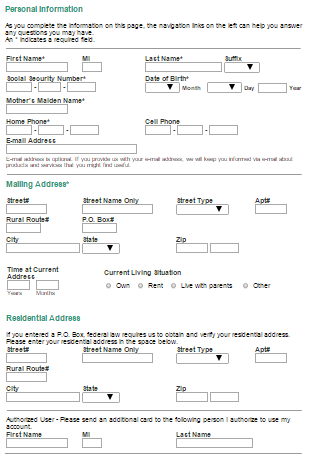 Step 5-Financial Information
Following your personal information, this is the financial information you will need:
Monthly Housing Payment
Annual Income
Employer's name
Business Phone Number
Time at Current Employer
The Status of your Employment
Underneath the financial information form you will notice another for balance transfers. If you wish to make a transfer, it can be done in three easy steps and will go through once you've completed the application.
Step 6-Application Agreement
Read over the agreement below and if you agree with it, select submit and finish your credit card application.