The Clark Crown MasterCard's complete title is the Clark Crown Endless Rewards MasterCard where the "Endless Rewards" they speak of is referring to there being no cap or expiry date on the rewards you accumulate. This is strange thing to advertise seeing as it's probably the least of anyone's concerns when considering a credit card. None the less, the card does offer a standard rewards program in which you won't need to stress about maxing out your points or having them expire. What a relief. If you're credit worthy, you could be dealing with a very competitive APR, and even if your not, it only goes as high as 18% (approx.). This is a fine card, as long as you don't use it irresponsibly as they're quick to ramp up your interest to potentially double the original APR if you leave your payments too long. The Commerce Bank (the card handler) website is incredibly easy to use and it is through them that the application forms can be accessed. Follow our guide below to get your hands on this convenient credit option.
Before we begin, take a look at the Commerce Bank online privacy policy to ensure you know how they will use the information you enter into their site.
How to Apply
Navigate to the card summary page and click on the Apply Now link that should look something like the one displayed below.

Step 1-Terms and Conditions
Read over the terms and conditions and click I Agree if you agree.

Step 2- Personal Information
You will be asked to fill in the form detailing your general information. This will involve the following fields:
Full Name
Address
Phone Number
Email Address
Time at Address
Birthday
SSN
Mother's Maiden Name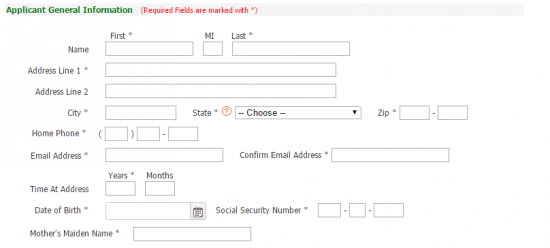 Step 3-Financial and Housing Information
The following will be needed:
Total Annual Income
Status of primary residence
Monthly Housing Payment

Step 4- Nearest Relative
Enter the full name of the nearest relative not living with you as well as your relationship to that individual. You must also check off whether you've declared bankruptcy in the past 10 years and whether or not you're a permanent U.S. Resident before continuing.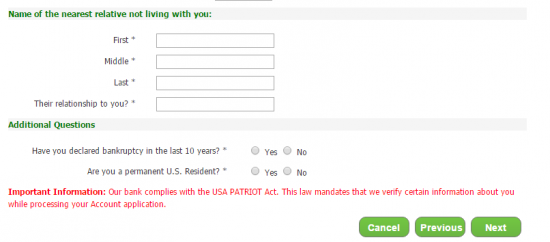 Step 5- Co-applicant
You can add a co-applicant to your account if you wish. In the case that you clicked yes, fill out all the personal information necessary to continue to the final step of the application process.

Step 6-Card Options
You will have the option here to transfer a balance onto your new card, access another Commerce Bank with your card and/or add an Overdraft Protection to your account. That's all!