Community Alliance Credit Union members interested in applying for their Visa Platinum or Visa Platinum Preferred credit card will find a helpful application guide just below on this page. Applying is a simple process powered by CA and available from their website.
Before applying, take a minute to review CA's privacy policy. It is important when submitting information online to be completely aware of how it will be handled once submitted.
Requirements
Applicants will have to be members of Community Alliance Credit Union, with all the membership restrictions that come in tow.
How to Apply
The application page is secured and thus can only be reached via the card summary page. Once there, scroll down until you see the blue APPLY NOW! link. Select this link in order to continue.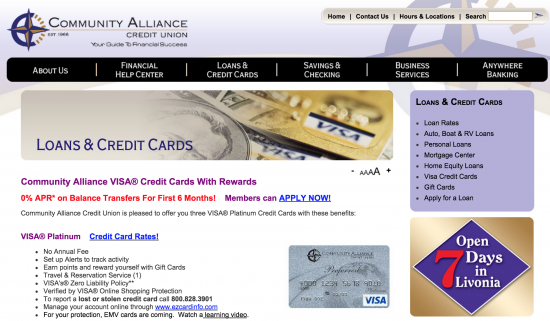 Step 1- Application Type
Specify at the start of the application if you will be applying as an individual or jointly with another CA member. Either way, you will be required to enter the following information:
SSN
Member number
Loan type (Visa Platinum credit card)
Amount requested
Email address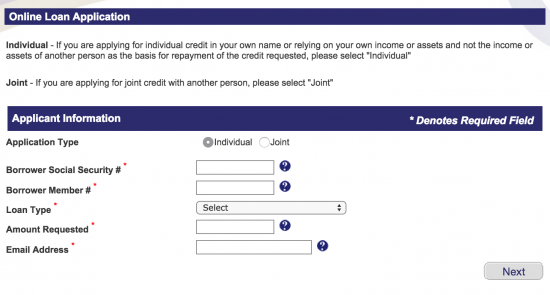 Step 2- Personal Information
Enter the following personal details here:
Full name
Date of birth
Address
Duration at current address
Housing status
Phone number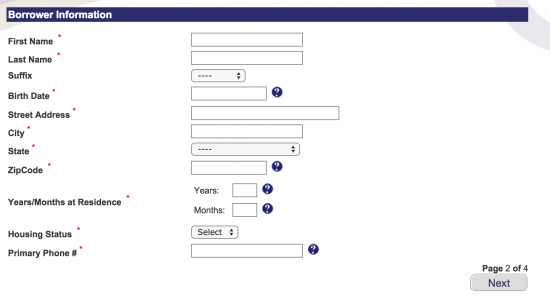 Step 3- Employment Information
In order for CA to evaluate your creditworthiness you will have to enter the following financial information:
Current employment status
Current employer
Position or title
Gross annual salary
Duration with current employer
Work phone number
Other income source / total gross amount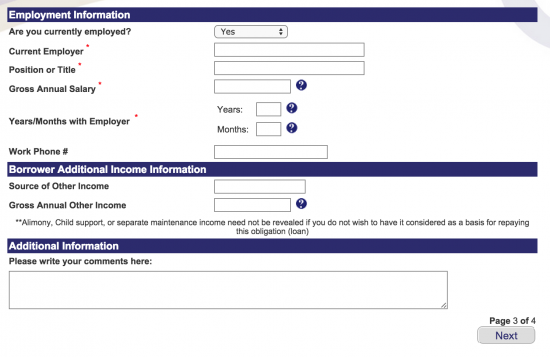 Step 4- Finalization
Before submitting you are given the choice to speak to a loan officer. After making this choice, take a moment to read over the terms and conditions (not available on the application) to ensure you understand the contract thoroughly, and then select submit.