Alongside their regular Visa Platinum Credit Card, DCU offers a Visa Platinum Rewards Credit Card; a credit card with all the familiar features plus a lucrative rewards program. Cardholders will receive 1 point for every $1 they spend and if they want to earn bonus points, shopping through the DCU portal or at the Point Perks Mall will increase the rewards opportunities. Every $1 spent at More Points online store will earn users an extra 3 points, and every $1 spent at Perks Points Mall will award users an extra 5 points. These points never expire and you can redeem them anytime for gift cards, merchandise, or travel purchases. The downside of this is not many people use these online portals to do their shopping. If you're looking to redeem points for a trip or an expensive purchase, you're better off getting a card with a rewards program that suits your spending habits. The best thing about the DCU Visa Platinum Rewards Credit Card is that there are very few fees attached to it. Cardholders pay no annual fees, no cash advance fees, and no balance transfer fees, and the interest rate is quite reasonable. DCU has branches in Massachusetts and Southern New Hampshire, so only people living in these areas will find this card enticing. Follow our tutorial below to learn how to apply for the DCU Visa Platinum Rewards Credit Card today.
We recommend reading through DCU's privacy policy before entering any personal information into the application form.
Requirements
Make sure you fit the following criteria before applying for this card:
Applicants must be 18 years of age or older
Applicants must have a valid Social Security number
Applicants must have a valid U.S. address
How to Apply
Step 1 – You can get started on the application process by following this link to the DCU credit card page. Click on the Apply Now button under the DCU Visa Platinum Rewards Credit Card to continue.

Step 2 – Enter your Email Address and create a Password, these will be used later so you can check the status of your application, or finish an application that you have not yet completed. Click Begin Application to proceed.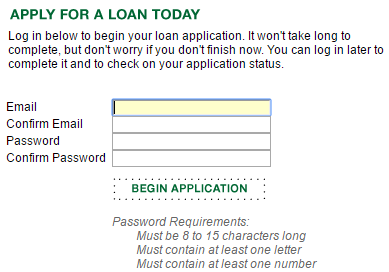 Step 3 – In order to get to the application form, you must select Apply for a Credit Card.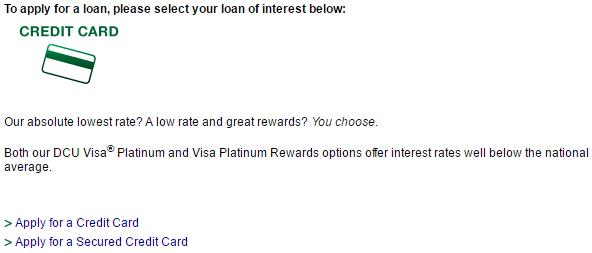 Step 4 – This step asks that you select your Preferred Branch from the drop down menu, and choose the purpose of your loan application from the second drop down menu.

Step 5 – Submit your First Name, Last Name, SSN, and Date of Birth in the indicated fields under Personal Information.

Step 6 – Next, some Contact Information is required. Provide a Home Phone number, Cell Phone number, Email address, and your Preferred Contact Method.

Step 7 – After that, DCU requires information on your current living situation including Address, Zip, City and State. They also want to know in what capacity you are living at this location and how long you have resided there.

Step 8 – If you would like to read up on the payment protection plan offered by DCU, select Yes. If you are applying jointly for this credit card, select Yes under Co-Applicant Option. Click Next to continue to the next page of the application process.

Step 9 – DCU requires your Employment Status, Job Title, Employer, and Length of employment. You can provide an address for your employer but this is not mandatory.
Step 10 – It's important that you submit your Gross Monthly Income so DCU can properly assess your current financial situation. You are also supplied with extra fields should you have any Other Income you wish to divulge.

Step 11 – At this juncture, you are required to provide your Monthly Rent amount and any other expenses you might have, including Alimony, Child Support, and the monthly payments of any credit received within the last 60 days. Click Next to continue.

Step 12 – The last step has you reading a disclosure stating that the information you have just provided is true and you give DCU permission to obtain your credit reports. We suggest reading through the terms and conditions to gain a full understanding of these conditions. Click I Agree if you accept their terms.

You application will be sent in to DCU for review. You can sit back and relax knowing the hard part is over. We hope these instructions helped you achieve your goals for the day. Good luck in your approval!