The Evans Bank Small Business Edition Credit Card is a reasonable option if you're looking for a business credit card. What makes this credit card worthy of your consideration is that there is no annual fee and the APR could be set as low as 11.24% (subject to change). To further entice prospective applicants, the issuing bank has provided a 0% introductory purchase and balance transfer APR for the first six billing cycles from the date of an account opening, making this a good candidate for consolidating your existing credit card balances. Unlike some other business credit cards, any additional employee cards that you may require come at no extra cost. Altogether, this credit card is fairly unremarkable, but still competitive with other business credit cards on the market. If you are interested in applying for the Evans Bank Small Business Edition Credit Card, you can scroll down and follow our step-by-step application guide below.
We recommend that you review the card-issuer, TCM Bank's privacy policy before submitting any personal information in your application.
Requirements
In order to be eligible for this credit card, the following requirements must be met:
Be of at least 18 years of age
Have a valid SSN
Have a valid TIN
Have a valid US mailing address
How to Apply
Step 1 – To begin the application process, navigate to the Evans Bank credit card page by following this link, and click the Business Credit Cards link to continue.

Step 2 – This pop up window will appear; click Continue.

Step 3 – Now select Yes or No to indicate whether your business is a non-profit organization.

Step 4 – Indicate Yes or No as to whether your business generates revenues in excess of $7 million or has 50 or more employees to continue to the next step.

Step 5 – Next, locate the Small Business Edition credit card option, and click the appropriate Apply Now button to the far right of it.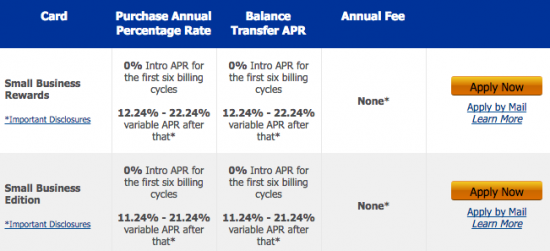 Step 6 – You should now be on the first page of the application form. Begin filling it out by entering the following information into the appropriate fields:
Legal name of business
Company name
Business street address (city, state, ZIP code)
If street address is the same as the mailing address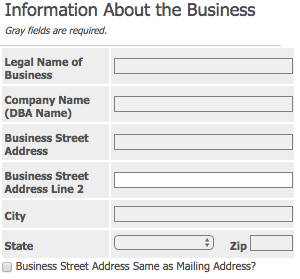 Step 7 – If your business mailing address is different from its street address, you will need to enter your Mailing Address, including the City, State, and Zip code. Next, you will need to provide the following contact information before continuing:
Business phone number
Business website
Business contact
Primary phone number
Email address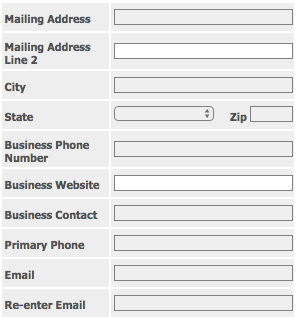 Step 8 – At this juncture, you will be asked to provide all of the information listed below.
Tax identification number
Nature of business
Annual business revenue
Years in business under current owner
Number of employees
State of legal formation
Business type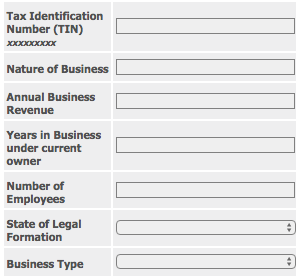 Step 9 – Now you will need to fill out the below personal information for each cardholder who has 20% or more ownership of the company. To add more than one principal cardholder, you will need to click the Add Another Principal link at the bottom of the Principal 1 section.
Full name
Business title
Home street address (city, state, ZIP code)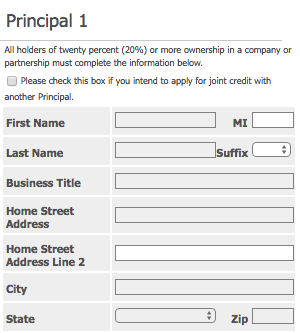 Step 10 – Next you will be asked to provide the following additional information:
Housing status
Monthly housing payment
SSN
Date of birth
Mother's maiden name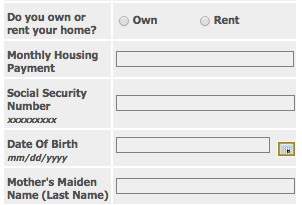 Step 11 – To complete filling out the principal's information you will need to enter the following details:
Primary phone number
Work phone number
Alternate phone number
Percentage of ownership
Gross monthly income
Below that, you are required to click the checkbox if the principal is an insider of TCM Bank before clicking Next.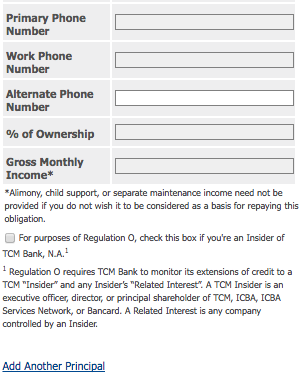 Step 12 – In this step, first enter the Total Credit Line Amount that you would like to request for this card, then provide the following details for each principal:
Name on card
SSN
Credit limit
Date of birth
You will then need to enter your name in the indicated space and click the checkbox indicating that you are authorized to request credit cards for your company.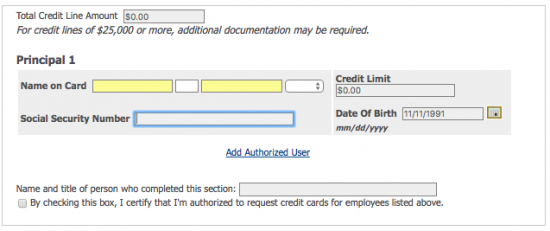 Step 13 – In the Balance Transfers section, you can request up to 4 balance transfers by clicking the Add Balance Transfer link and entering the following information into the appropriate spaces before continuing:
Account number
Name of creditor
Payment address (city, state, ZIP code)
Amount of transfer ($500 minimum)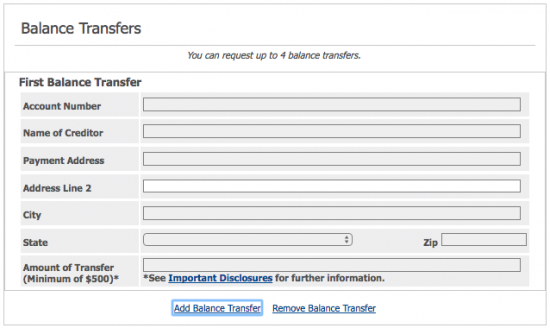 Step 14 – This step is optional. If you have an Evans Bank contact, enter their Contact Name, Phone Number, and Branch Location. Below that, if you have any additional comments that you would like to be taken into account, type them into the Comments field.


Step 15 – Here, you are asked to upload 3 documents to verify the existence of your business. You can upload copies of these documents by dragging them into the indicated field. If you cannot or do not wish to upload all of these documents right now, you can continue with the application and supply them at a later date.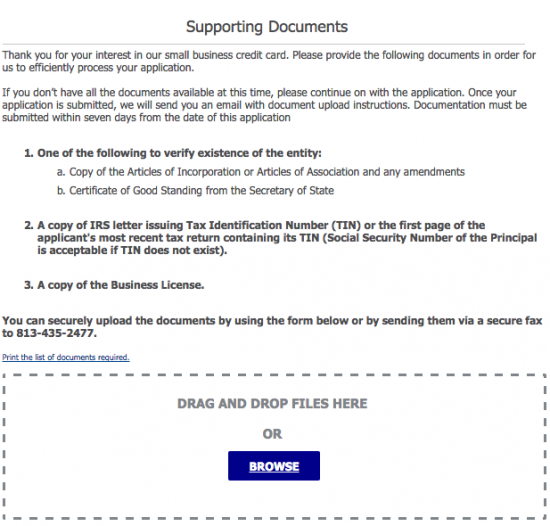 Step 16 – If you bank with Evan's Bank, enter your Branch Number and CSRID here. Click Next to continue to the final step of the application process.

Step 17 – Be sure to read through the terms and conditions for the Evans Bank Small Business Edition Credit Card thoroughly before checking the little box that indicates your agreement. Read the paragraph regarding the necessary devices you must have and tick the box indicating that you meet these requirements. When you're ready, click the Submit button to submit your credit card application.


Congratulations! You made it through all the steps of the application process and your application is now submitted for review. We hope that our guide has helped to make the application process as painless as possible. We wish you good luck and we thank you for visiting us at Card Reviews.