If you are in the market for a card with a decent APR and enjoy receiving a few extra bonuses, the First Commercial Bank Purchase Perks Visa Platinum Card is a solid choice. There are 2 levels of rewards to choose from; Basic and Premier. Both choices grant the cardholder a $0 annual fee for the first year. After that Basic users pay $12 a year, while Premier users pay $50 a year. You earn 1 point for every $1 spent, but only on qualifying purchases. At the Basic level you can only redeem your points at certain restaurants, stores, and for travel discounts, but for $38 more a year you can redeem those points for cash, as well as other qualifying purchases, at the Premier level. The awards program offered by this credit card isn't mind-blowing, especially since you have an annual point cap of 200,000 points (Premier) and 120,000 pionts (Basic). However if you have a good credit score you could be dealing with a low APR of 7.49%, making this a very viable option for those banking with Synovus – First Commercial Bank (APR is subject to change). Keep reading if you are interested in applying for this card; we offer step by step instruction to make it faster and easier for you to do so.
Before sharing any financial or personal information you may want to read the Synovus privacy policy to familiarize yourself with their terms.
Requirements
US Citizen
Minimum 18 years of age (19 in Alabama)
Live in one of the following states: Alabama, Florida, Georgia, North Carolina, South Caroline or Tennessee
Already be an online banking customer
How to Apply
Step 1 – In order to get started you'll need to get to the First Commercial Bank personal credit cards page of the Synovus website found here. Three different platinum Visa's will show up, click on Apply Now under the Purchase Perks Visa Platinum card.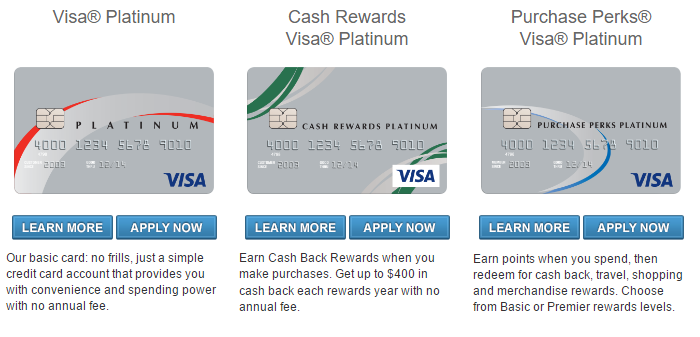 Step 2 – A secure application page will open up where you will have to answer whether or not you are an online banking customer. If you are, enter your User ID and Password. From there you will be able to apply for your new credit card through the care of Synovus' seamless online banking site.

Step 3 – If you aren't already an online banking customer you will need to apply for this credit card by going into a Synovus – First Commercial Bank and speaking to someone in person.

Unfortunately the First Commercial Bank does not make it easy for mew customers to apply for credit cards. We wish we could supply you with more information, but the online process is reserved for those already online banking customers. Hopefully this doesn't stop you from completing the application in person and you will still be able to get the credit card that you so very much deserve.