The First State Bank Visa Bonus Rewards and Bonus Rewards Plus Card are two cards which offer potential cardholders a reasonable APR (assigned based on your credit score) and a fairly standard rewards program. The rewards program earns cardholders 1 rewards point for every 1 dollar spent and, at the end of each month, awards a 25% or 50% bonus on all points earned that month (for Bonus Rewards and Bonus Rewards Plus respectively). This means you will be earning more rewards on every dollar you spend. It's worth noting that the Bonus Rewards option comes with no annual fee, whereas Bonus Rewards Plus comes an annual fee of $50. So, if you're looking for the cheaper option, you should probably go with Bonus Rewards. To further entice prospective applicants, the card-issuer (Elan Financial Services) awards new cardholders with a 0% introductory APR for their first 6 billing cycles and a $25/$50 statement credit after their first purchase is made. For instructions on how to apply for the First State Bank Visa Bonus Rewards and Bonus Rewards Plus Card, scroll down and consult our tutorial below.
We recommend that you read over the Elan Financial Services (EFS) privacy policy before submitting any sensitive information in your application form.
Requirements
To be eligible for this credit card, all applicants must meet the following requirements:
Be of at least 18 years of age
Have a valid US mailing address
Have a valid SSN
How to Apply
Step 1 – Navigate to the First State Bank credit card page by following this link. Once there, locate and click the green Apply Now link.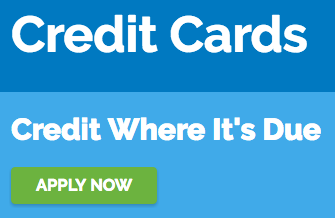 This message will appear in a new window. Click OK to continue.

Step 2 – Locate the All Purpose Rewards category and click the Apply Now link beneath the card which you would like to apply for.

Step 3 – You should now be on the application form for this credit card. Begin filling out the form by supplying the following information:
Full name
Date of birth
SSN
Country of citizenship
Country of permanent residence
Primary phone number
Mobile phone number
Email address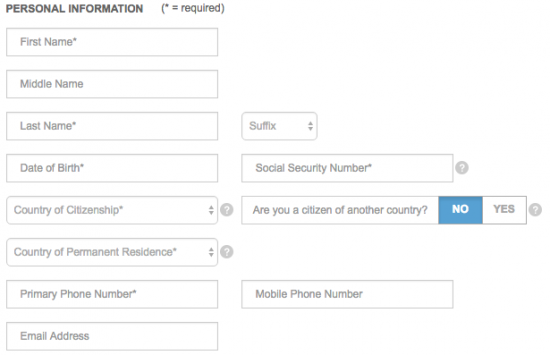 Step 4 – After completing the above section, enter all of the below information into the indicated fields of the Housing Information section:
Complete address
Time at address
Housing status
Monthly payment
Alternate mailing address (if applicable)

Step 5 – Next, in the Income and Employment Information section, you are asked to provide the following details of your employment and income:
Employment status
Employer
Occupation
Annual income
Other income
Below that, select Yes next to any account that you currently have with First State Bank (if applicable).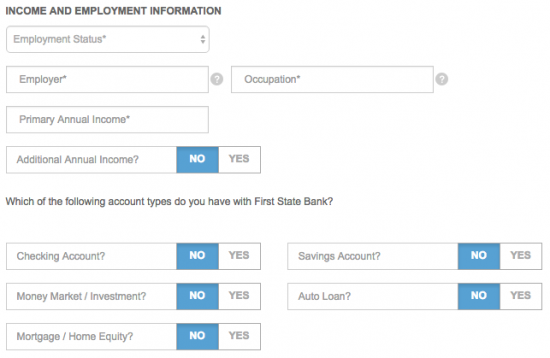 Step 6 – At this juncture, you have the three following options to include with your application, if you so choose:
Perform a balance transfer
Add a joint applicant
Add an authorized user
Select Yes next to each option that you wish to employ and supply the requisite information.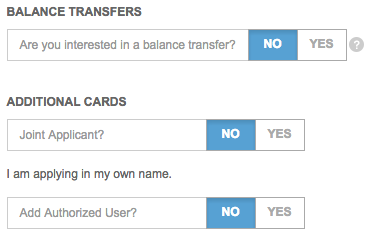 Step 7 – Now read over the terms and conditions for the credit card that you are applying for. If you are agreeable to the terms, click the checkbox at the bottom of the page to act as your digital signature. Then, click Submit to submit your completed application for review.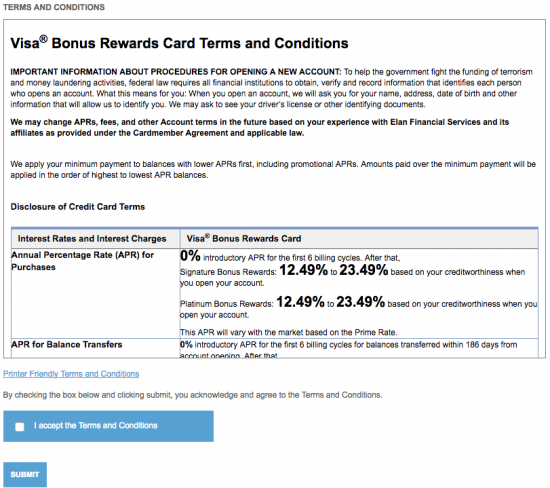 Congratulations! If you successfully followed all of the above steps, you have now submitted an online application for the First State Bank Visa Bonus Rewards or Bonus Rewards Plus Card. We hope that our guide has been helpful and we wish you the best of luck with your application. All the best!