If you're considering applying for a First State Bank business credit card, the First State Bank Visa Business Cash Card is definitely worth your consideration. With a cash back rewards program, you can elect to receive your rewards as either a statement credit or as a bank account deposit. This means that instead of being required to manually keep track of and redeem your rewards, you will automatically receive cash back rewards as you go! With this particular credit card, you will earn 3% cash back on all of your expenditures relating to office supplies and phone/internet services, 2% cash back on restaurant and gasoline purchases, and 1% cash back on all other purchases. In addition to this great rewards program, the APR is reasonable and there is no annual fee. Not only that, but to further entice you, the card-issuer will give you a $25 cash back bonus after your first purchase and a 0% APR on purchases and balance transfers for the first 6 billing cycles. If this sounds like the perfect card for you and your business, scroll down and follow our tutorial on how to apply for the First State Bank Visa Business Cash Card online.
Elan Financial Services (EFS) is the issuer and creditor for this credit card. We recommend that you review their online privacy policy before submitting any sensitive information on your application.
Requirements
Applicants must meet the following requirements in order to be eligible for this credit card:
Be at least 18 years of age
Have a valid SSN
Have a valid TIN
Have a valid US mailing address
How to Apply
Step 1 – Navigate to the First State Bank business credit card page and click the Apply Now link.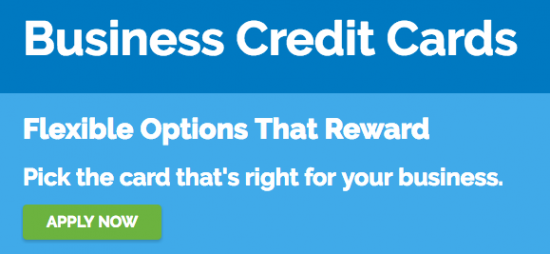 Now click OK to get to the next step.

Step 2 – Scroll down until you find the Visa Business Cash Card and click the Apply Now link.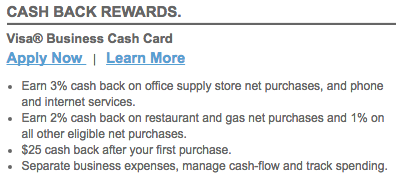 Step 3 – Now begin filling out the application form by entering the following information:
Business name to appear on cards
Business name
Business tax ID number
Complete business address (city, state, ZIP code)
Alternate mailing address (if applicable)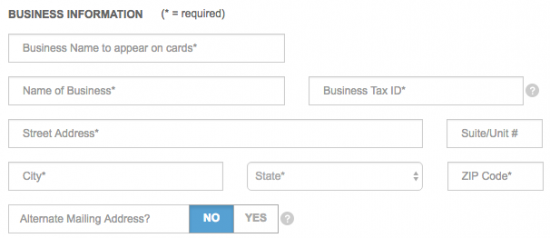 Step 4 – Complete this section by providing the information listed below into the appropriate fields.
Years at current business address
Year business was started
Legal structure
Nature of business
Type of industry
Country of formation
Number of countries with offices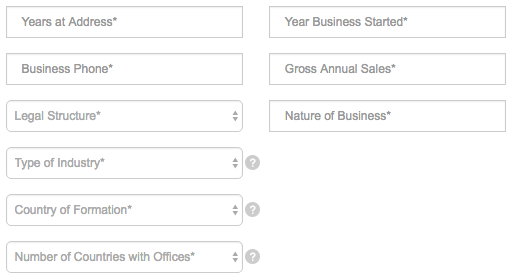 Step 5 – In this step, first use the drop-down menu to indicate whether you would like to sign up for Cash Access. Then, indicate any accounts that you have with First State Bank by clicking Yes next to the applicable options.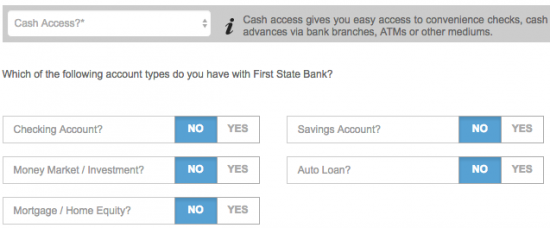 Step 6 – At this juncture, you must provide the following personal information as a Business Owner:
Business owner type
Full name
SSN
Date of birth
Phone number
Email address
Complete mailing address (city, state, ZIP code)
Alternate mailing address (if applicable)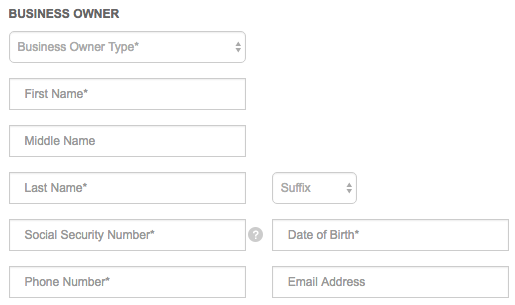 Step 7 – Next, provide your Annual Income and Ownership Percentage before indicating whether you are a politically exposed person.

Step 8 – Select Yes and provide all of the requested information next to each of the following options which you would like to add to your application:
Balance transfers
Beneficial owners
Employee cards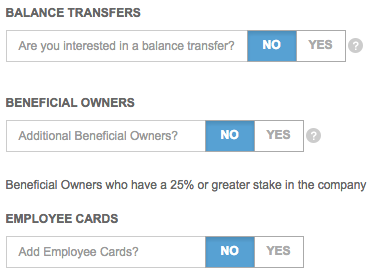 Step 9 – Now that you have finished filling out your application, all that remains is for you to read and agree to the terms and conditions. Click the indicated checkbox if you consent to the terms and click Submit to have your application submitted for review by EFS.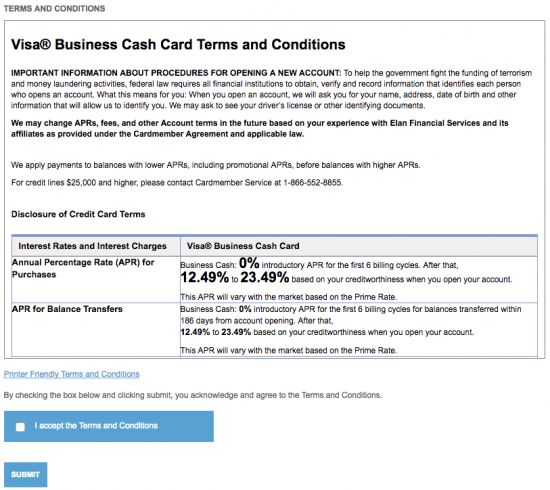 Now that you have submitted your application for the First State Bank Visa Business Cash Card, all you have to do is sit back and await a response. We hope that this guide has been helpful and we thank you for visiting Card Reviews. All the best!