The Gap Credit Card is a great card for those loyal Gap customers who spend enough at retail locations to be able to turn that spending into valuable reward points that can be exchanged for gift certificates and discounts. There is no annual fee for the Gap Credit Card however it comes with a hefty interest rate for purchases of 24.99% APR and 26.99% APR for cash advances. Neither interest rate is anywhere close to reasonable, and we highly advice that if you end up becoming a cardholder that you pay your balance of in full every month so as to not be pouring money down the drain. Completing the application is simple and only takes a few minutes. Those who wish to apply for the Gap Credit Card may do so easily on a website run by Gap and backed by Synchrony Bank (SYNCB), and can use our helpful guide complete the application as fast as possible. Through the application process SYNCB will determine your creditworthiness and thus issue either the Gap Credit Card or the Gap Visa Credit Card, the difference between the two is based on the rate at which you earn reward points. Simply scroll down this page and you will find a step-by-step guide that will explain everything you need to know about completing the application process online.
Reading the online privacy policy is not a mandatory step, however it is an important one. Doing so will provide you with the information you need to completely understand how your valuable personal information is going to be used and protected throughout the application process.
Requirements
To complete the application process successfully, applicants must:
Be at least 18 years of age or older
Have a valid Social Security Number
Be a resident of the United States of America
How to Apply
Step 1: Navigate to the application homepage, pictured below.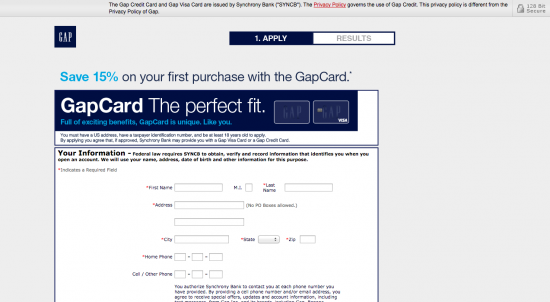 Step 2: In the following section applicants provide basic personal and financial information to allow SYNCB to evaluate them as potential candidates. You will need to enter the following information into the blank spaces provided:
Full Name
Address
Phone Number(s)
Annual Net Income
Duration at Current Address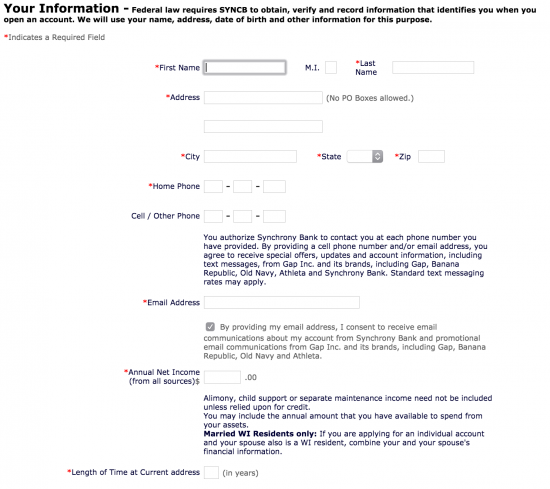 Step 3: Enter the following information in the blank spaces provided:
Date of birth
Social security number
Mother's maiden name

Step 4: You may now decide how you would like to receive your statements, assuming you are approved for a credit card. Although you may choose paper statements, opting for electronic statements will earn you an immediate 500 rewards points.

Step 5: In the event of an unforeseen accident or calamity SYNCB offers debt protection up to $10,000 for 1.6% of your monthly bill debited from your account automatically each month. For a more in depth look at this policy please read the Program Agreement. If you would like this policy simply click the tickbox to give your consent.
Step 6: Read the Terms and Conditions and click the tickbox to consent to them. Finally, click the SECURE SUBMIT button to complete the application process.