The NEA Credit Card with Rewards points program is nothing to write home about as it offers the standard 1 point per dollar on all purchases made with the card. These points can be redeemed once you hit the 2,500 mark and can be exchanged for gift cards, flights or cash. NEA also offers an introductory 0% APR to members for the first 12 statement closing dates following the opening of your account. After the introductory rate expires, your APR will settle back to somewhere between 13.24% and 23.24%, depending on your creditworthiness (APR is subject to change). Considering the fact that this card has a rewards program but no annual fee, it might be a good choice for your wallet. Scroll down to find out how you can apply for this card.
Be sure to review Bank of America's privacy policy before taking any further steps forward.
Requirements
To be eligible for this card, the following requirements must be met:
You are at least 18 years of age
You are at least 21 years of age if you are a permanent resident of Puerto Rico
You have a valid SSN
How to Apply
Step 1- Start by clicking here to be taken to the enrollment page for this credit card. Under the About You heading, supply the following information:
Full name
Phone number
E-mail address
Full address
Country of residence
Would you like your statements sent to a different address? (y/n)
Housing status
Monthly housing payment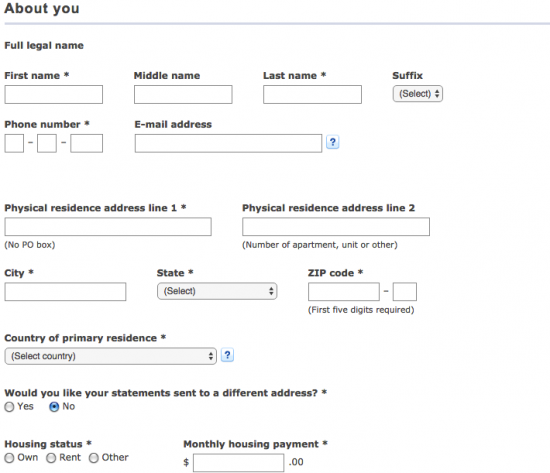 Step 2- Continue by scrolling down and supplying your Social security number, Date of birth, Mother's maiden name, and Country of citizenship. Specify once again your citizenship by checking one of the two available options.

Step 3- Indicate your Employment Status by choosing one of the options from the drop-down menu. You will then need to supply your Company name or employer, the Years in occupation, your Occupation, and Work phone number.

Step 4- Enter the amount you earn on a yearly basis and indicate your source of income.

Step 5- Here you can elect to perform a balance transfer and consolidate your bills into one monthly payment on this credit card. Below this, check the box if you'd like to add another cardholder to the account.

Step 6- Please take a moment to read the terms and conditions before clicking Continue to proceed.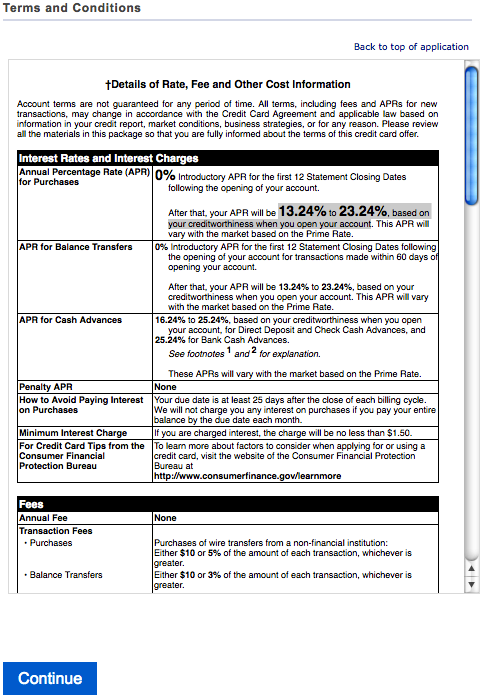 Step 7- This page will provide you with a summary of all the information submitted so far. Review the data and verify its accuracy before moving forward.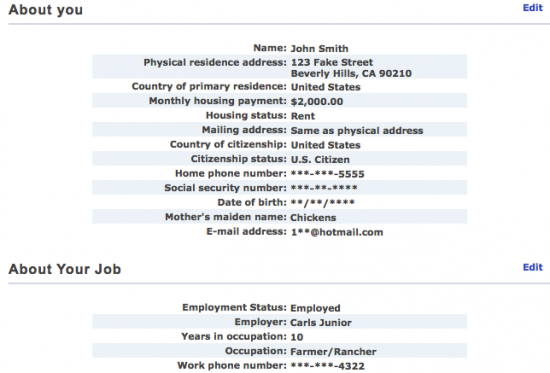 Step 8- Check the small box located towards the bottom of the page to provide consent to their terms and conditions. When you are ready to proceed click Submit Application and your card request will be reviewed. The completing of these simple steps marks the end of the application process. Good luck in your future banking endeavours!