Offering the opportunity to earn early access to the anniversary sale and cash back rewards points, the Nordstrom credit card lets shoppers make the most of their purchases. Nordstrom credit cards are issued by Nordstrom fsb, d/b/a Nordstrom Bank, subject to approval.
Requirements
Cardholders must be at least 18 years of age or 19 in Alabama and Nebraska and 21 in Mississippi and Puerto Rico.
How to Apply
Step 1 – Visit the Nordstrom online application page. The application begins by asking you for your contact information. You'll need to provide your full name, address, city, state, and zip code. There is a box to check at the bottom of the page if you want to have your credit card statement sent to a different mailing address, such as your work address.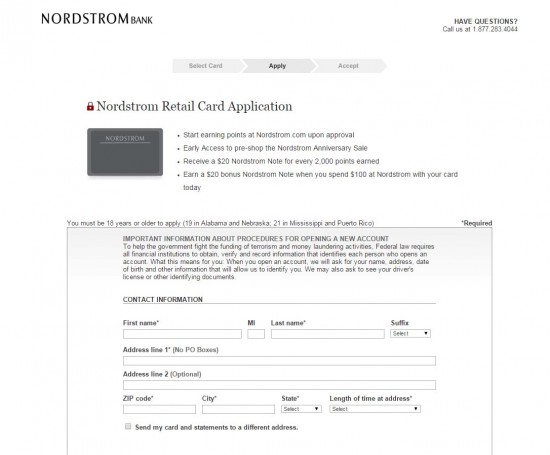 Step 2 – Provide your Social Security number, date of birth, employer (optional), and annual income. Verify your identity with an ID number and expiration date from your driver's license, state ID card, passport, green card, or military ID.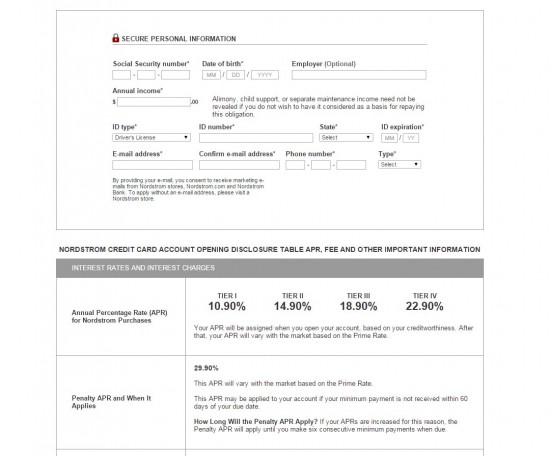 Step 3 – Review the credit card account terms and disclosures. When you reach the bottom of the page, click on the orange "Agree & Apply" button to submit your application. If you've decided that you don't agree with the terms of the card, simply click on the white "Cancel" button to revoke your application.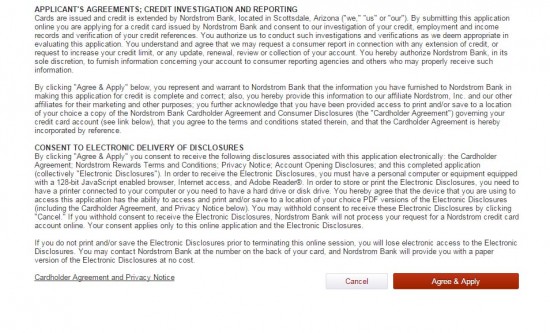 How-to Video
[youtube]https://youtu.be/3JBu7p4fx54[/youtube]