Members of the PenFed Credit Union who have recently received a PenFed Premium Travel Rewards American Express Card in the mail will need to go through the activation process before their card can be put to use. The online features available on the PenFed banking webpage will greatly increase your efficiency as you can pay bills, review your statements, or update your personal information all from the comfort of your computer or mobile device. The tutorial found below will guide you through the activation, online registration and login procedures. Get started by scrolling down.
Be sure to review PenFed's privacy policy before submitting any sensitive information into their online portal.
How to Login
Navigate to this webpage to access your PenFed Credit Union online banking page. In the login menu, enter your Username and click Login to continue.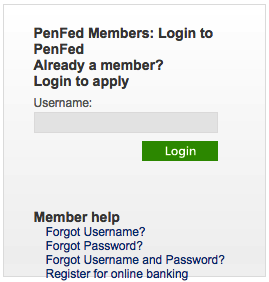 If you are currently logging in from a computer or mobile device that isn't registered with PenFed, you may be required to supply some security information to access your account. In the empty field, supply your mother's middle name and below that, select one of the options to specify whether you would like to register the computer you're currently operating from with PenFed. Continue to the next page where you will need to supply your password before being able to access your online banking account.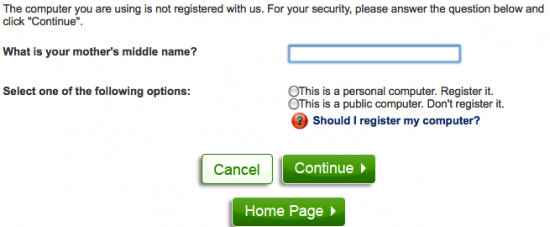 If you have forgotten the username to your banking account, click on the Forgot Username? link located below the main login field. On the next page, enter your SSN and click Continue. Your username will be sent to your registered email address within 15 minutes once the above steps have been completed.

To retrieve a forgotten password, select the Forgot Password? link located in the main login menu. You will need to be validated before you can re-establish your password. Begin this process by clicking Let's Get Started!.

There are multiple methods of verification that can be used to retrieve your forgotten password. Let's start by using your Member Number. Enter your personalized number into the empty field followed by your Security Code and the first 3 digits of your SSN. Click Continue and an email will be sent to you containing your forgotten password.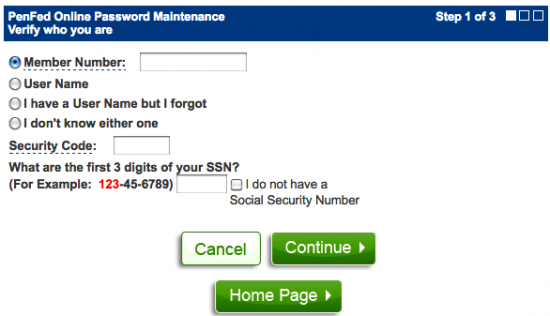 To verify your identity by user name, enter your User Name into the first field, your Security Code into the second and the first 3 digits of your SSN into the last. Select the Continue tab to proceed and an email will be sent to you containing your password.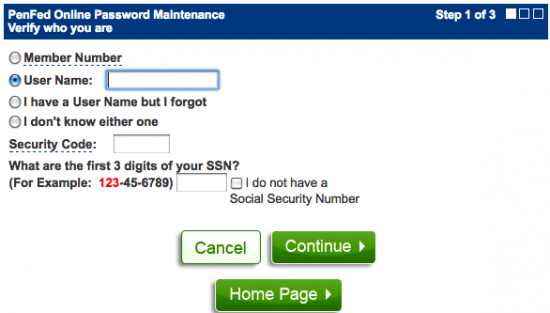 The last two options for password retrieval are the same in that you will need to supply you Social Security Number. Once entered, click Continue and your user name will be sent your the email address on record with PenFed. After you've received your user name, it will be possible to retrieve your password using the User Name method of verification.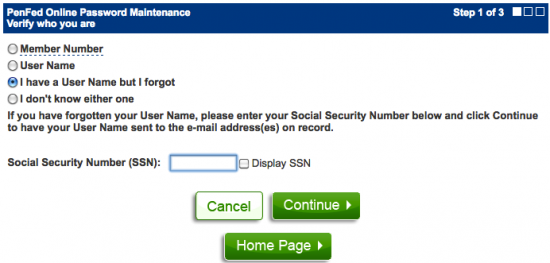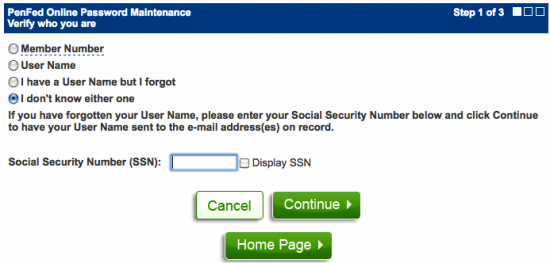 If you can't seem to remember your user name or your password, click on the Forgot User Name and Password? link located at the bottom of the login menu. The next page requires you to enter your Social Security Number into the blank field. Click Continue and your user name will be sent to your email address. Following these steps, it will be possible to retrieve your password using your user name to verify your identity.

Activation/Registration
Call the number posted above to activate your card. Once activated, you can begin the online banking enrollment process by clicking on the Secure registration link found just above the activation number. You will see the Let's Get Started! tab on the following page. Click on the tab to proceed.

Here you will need to enter your Member Number, Security Code and the middle 2 digits of your SSN. Navigate through the next few pages where you will need to choose a user name and password for your account before it can be used for your online banking needs.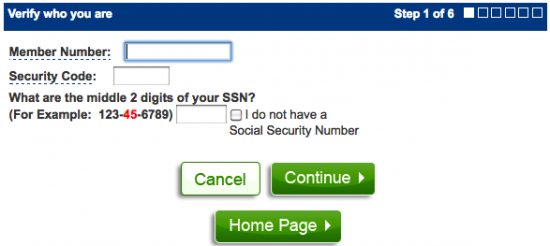 Your online account will be ready for use once you've successfully completed the above steps. Thank you for choosing Card Reviews as your credit card expert. Good luck and take care!