The Purdue Federal Visa Signature Credit Card is arguably the best card that Purdue Federal has on offer. With an APR that ranges from 11.5%-17.5% depending on your creditworthiness, it's quite competitive with other cards on the market that offer similar rewards (APR is subject to change). Not only that, but this card also has no annual fee and a 0% introductory APR for the first year. With the Purdue Federal Visa Signature Credit Card rewards program you get 1.25 points per $1 spent, which, considering this is a free card, is slightly above average. Follow the instructions below to apply online and see if you qualify for the Purdue Federal Visa Signature Credit Card.
Take a moment to read the Purdue Federal privacy notice to learn more about how they use your information.
Requirements
To be eligible for this card you must fulfill the following requirements:
Be at least 18 years of age
Have a US SSN
How to Apply
Step 1- To apply for the Purdue Federal Visa Signature Credit Card online, follow this link, scrolling down the card overview page and clicking the  Apply Now link. This will take you to the next step of accessing the application form.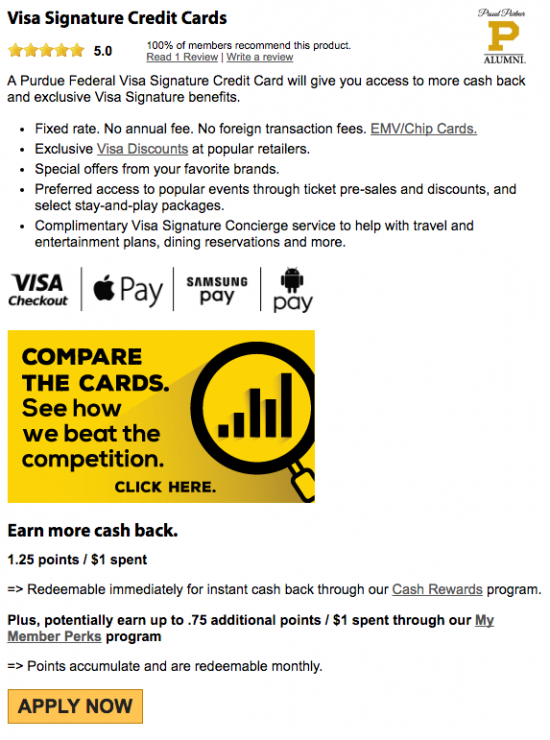 Step 2- Before you can start filling your application, you will have to enter your Email, then create and enter a Password to be able to access and save your secure online application. Once you have entered this information in the fields seen in the example below, click Start My App.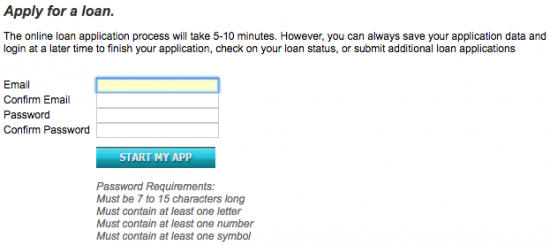 Step 3- Next, on this page you will need to find and click Apply for a Credit Card.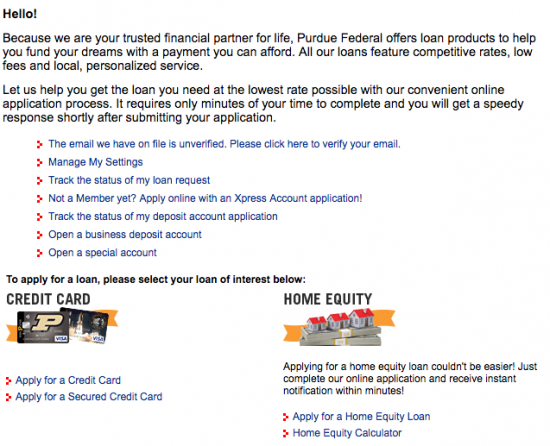 Step 4- To access a secure online application, you need to verify yourself by clicking the Online Loan Application Disclosure Verification and copying the code found within in the blank field. Once you have done this, click Verify Code and then click the Click here to continue link. Before you can continue, three links will appear:
Visa credit card disclosure and agreement
Cash rewards terms and conditions
Online loan application e-sign disclosure and consent
Click, read, and agree to the documents attached to each link, then click Next to proceed to the next step.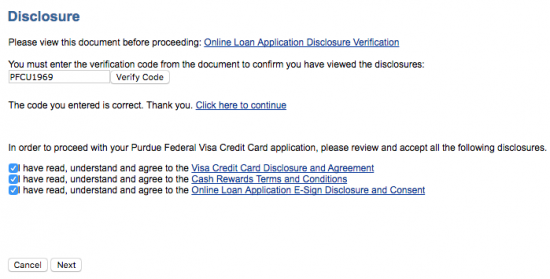 Step 5- Now, navigate to and select Visa Signature by clicking the little circle beside this category, then click Next to start your secure application.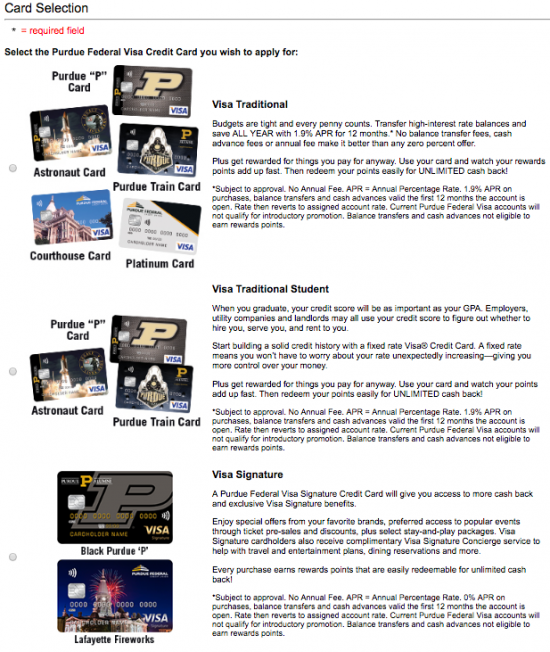 Step 6- At this point, you should be on the application page. Begin filling out your form by providing the following information as indicated:
Preferred branch
General purpose of this application
First name
Last name
SSN
Date of birth
Member number
Membership duration
Citizenship status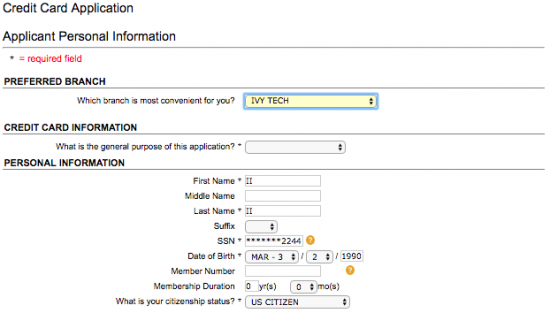 Step 7- In the Contact Information section, you will need to enter the following information:
Home phone
Work phone (and extension if needed)
Cell phone number
Email
Preferred contact method

Step 8- Next, to further authenticate your application, provide the following information in the Driver's License and Current Address sections:
ID card number
ID state
ID country
ID date issued
ID expiration date
Address
Zip code
City
State
Housing status
Length of time at this location
Step 9- Proceeding down the application, first select Yes or No to indicate whether you would like to receive information on the Member Protection Plan. Then, beneath Additional Questions, select your card design and select the category that applies to you beside Tell us more about you. If you would like to add a co-applicant to your application, select Yes in the Co-applicant Option section, otherwise leave it as No. Once you have completed all of these steps, click Next.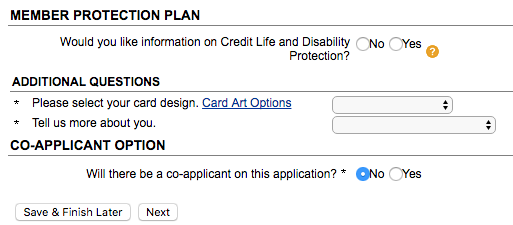 Step 10- Complete the first section, Employment Information, by inputting the following pieces of information:
Employment status
Profession/job title
Employer
Supervisor name
Length of employment
Years in profession
Employer's complete address (Street address, Zip code, City, and State)
Employer's phone number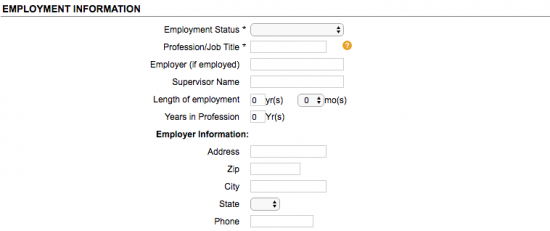 Step 12- Provide the following information in the Monthly Income Information section:
Gross monthly income
Other income (up to 2)
Select if your Other Income 2 is tax-exempt (if applicable), and enter any comments regarding your income in the large blank field. When these fields are complete, provide all of the following information that applies to you in the Monthly Expense Information section:
Total monthly mortgage
Job expenses
Alimony
Separate maintenance
Child support
Tax expense
Other expense (up to 2), if applicable
As soon as you have completed all of the information detailed above, click Next to proceed to the final step of the application process.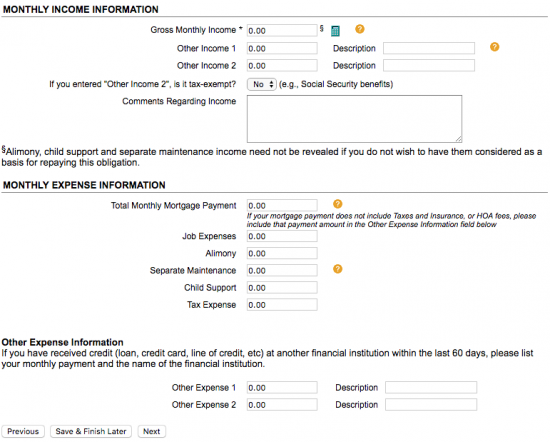 Step 13- Proofread your application for any errors and review the Terms and Conditions of the Purdue Federal Visa Signature Credit Card. Finally, read and agree to the two statements that state that the information in your application is correct and that you grant the credit union a security interest regarding your account. Once all of this has been accomplished, click I Agree to submit your application for approval.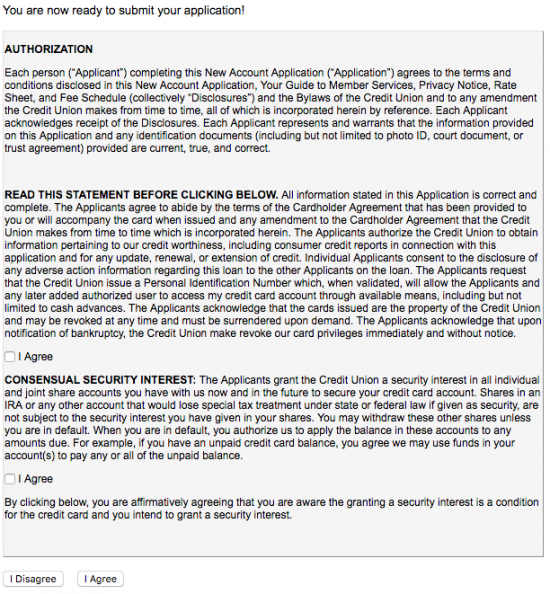 Your application is complete! Hopefully your application will be a success and this guide has been helpful to you. Best of luck!