Alumni of Sheridan College can now support their alma mater through the Sheridan College MBNA Rewards MasterCard. For every purchase made with the card, MBNA will contribute a percentage of the funds to the school's alumni association. The APR for this credit option is quite high at 19.99%, so if you're considering applying, you will need to be sure to stay up-to-date with paying off your balance (APR is subject to change). MBNA provides cardholders with a standard rewards program of 1 MBNA Rewards point for every $1 that they spend on eligible purchases, as well as a signup bonus of 1,000 bonus points after their first eligible purchase. If you are successful in your application for this card, you will also enjoy a 1.99% APR on balance transfers made within the first 10 months of your account opening. We have provided a guide below on how to apply online for all interested parties. If you would like to apply for this card, scroll down to get started today.
We recommend that you consult the MBNA privacy policy before submitting your personal and financial information on their website.
Requirements
To be eligible to receive this credit card you must fulfill these requirements:
Be at least 18 or 19 years of age (depending on your province)
Be a Canadian resident
You have not filed for bankruptcy in the past 7 years
You do not have any seriously past due payments
How to Apply
Step 1 – To access an online application for this credit card, follow this link to the Alumni MBNA Credit Card webpage, locate the Sheridan College MBNA Rewards MasterCard summary, and click Apply Now.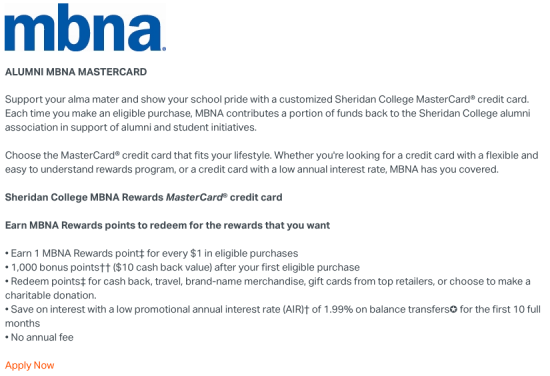 Step 2 – Read the legal disclosures for this card. If you agree to the terms of this document and wish to continue, tick the little square in the Information Box and scroll down.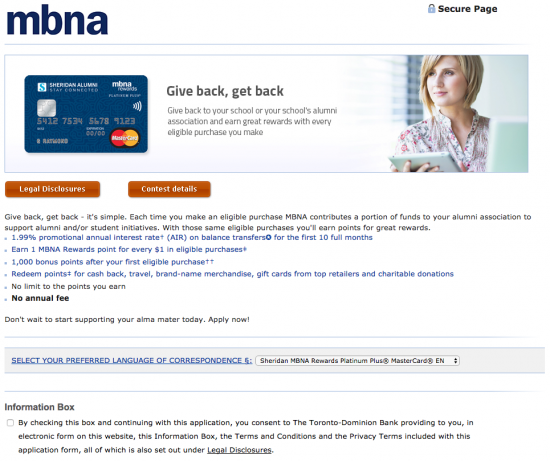 Step 3 – In the Primary Applicant's Information window, you may begin filling out your information by supplying the following details:
Full name
Home address (and apartment number if necessary)
City
Province
Postal code
Housing status
Monthly payment
Years at current address
Mailing address (if different from your home address)
Home and mobile phone number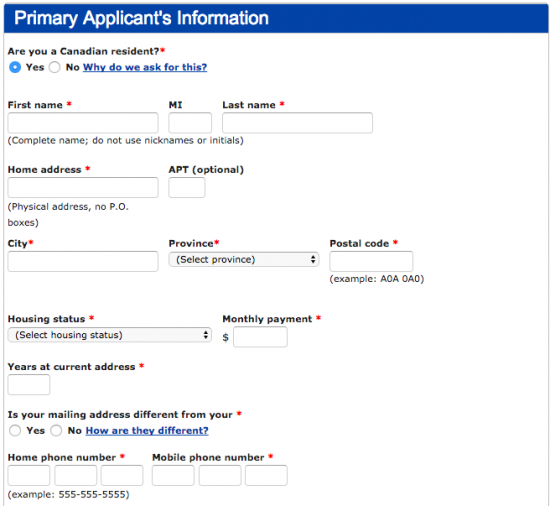 Step 4 – Next, you will need to provide the following information into the Personal Information window:
SIN
Date of birth
Mother's maiden name
Email address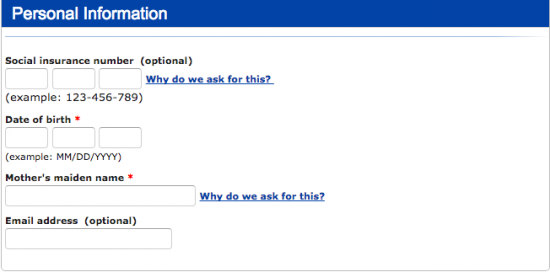 Step 5 – In the Employment Information section you will need to provide a lot of information so bear with us. First, you must select your Employment status from the pull-down menu. For the majority of the options you will have to enter a variation of the information listed below (students scroll down to the next paragraph).
Company name or employer
Number of years with company
Street address for your office (including city, province and postal code)
Occupation type
Occupation
Your position at this job
Work phone number
Your income
Other income or spousal income (if applicable)
Source of other income (if applicable)
Total annual household income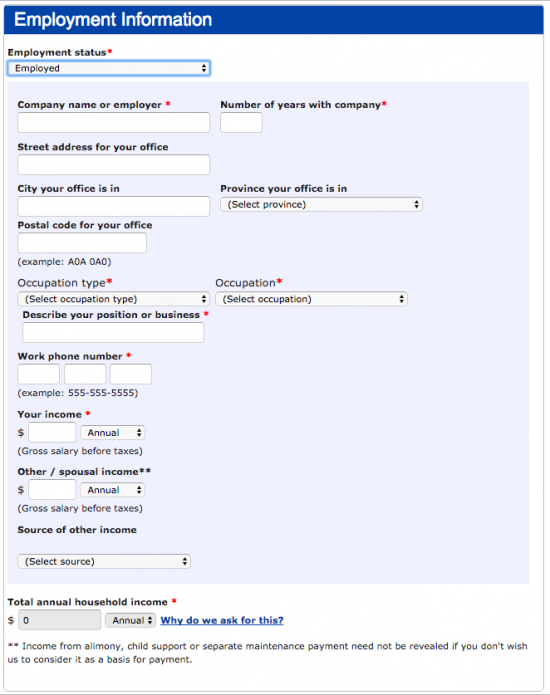 If you are currently a student, then the required information will be different. You will need to provide the following information about your schooling before continuing:
School name
Student status
Student ID number
Major
Expected graduation year
Alternate phone number and address (if your contact information is different while you're in school)
If you are a student and are also employed, enter the following information:
Company name or employer
Describe your position or business
Your income
Other income or spousal income (if applicable)
Source of other income (if applicable)
Total annual household income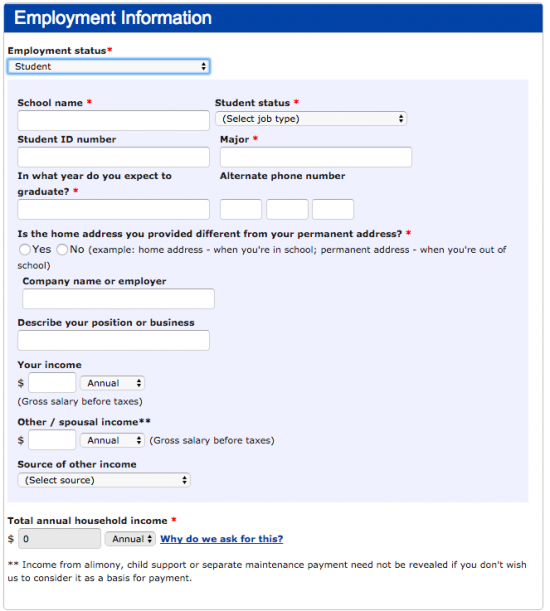 Step 6 – At this juncture of your application, you can tick either or both of the two boxes contained in the Card Features window to transfer an existing balance to this new credit card that you are applying for. You can also sign up for an insurance policy for your account should your application be accepted. Click Continue to continue to the last step.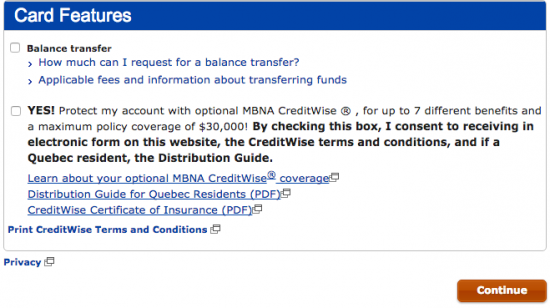 Step 7 – Look over all of the information that you have supplied in your application and make sure that you are satisfied that it is properly filled out. Then, review the terms and conditions for the Sheridan College MBNA Rewards MasterCard to be sure that you agree to the terms contained within and wish to submit your application. When you are ready, tick the box indicating that you agree and click Continue.
That's all there is to it! Providing that you have correctly completed all of the above steps, your application has been submitted for review. We wish you the best of luck with the result and hope that our guide has proven helpful today.