The Target Red Card Credit Card is a welcomed card by all of loyal Target customers out there. This card has a reasonable interest rate of 22.90% APR for purchases and the added bonus of a 5% discount on all purchases made at Target (both online and at retail locations). With the lack of cash advance, the Target Red Card Credit Card definitely loses a few points in our review, however the rewards program that is available does make up for it. Applying for a Target Red Card Credit Card is a strenuous, taxing process that will require your absolute best for successful completion. Kidding, it's very straightforward, but in order to further simplify the process we've laid out the steps in a convenient step-by-step layout below.
Before you continue on to the application guide, we would like to remind you of the importance of reading the online privacy policy in its entirety. Doing so will help you stay informed of how your personal information is going to be used and protected throughout the application process.
Requirements
In order to complete the application process successfully, applicants must:
Be at least 18 years old
Have a valid US or Canadian address
Have a valid Social Security number
Have other valid government photo-ID
How to Apply
Step 1: Personal Information
You will first need to navigate to the application homepage. From there you will be required to enter the following information into the blank spaces provided:
Full name
Phone number(s)
Email address
Simple, right? Unlike many credit card applications Target allows you to opt out of email and phone contact about new offers and the like. Once you have entered this information, click the CONTINUE button to proceed.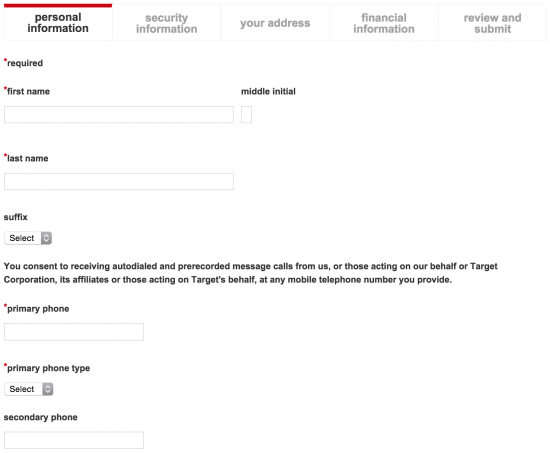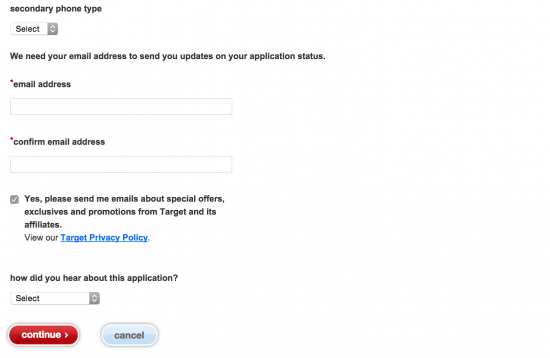 Step 2: Security Information
In this step you will be asked to enter some basic security information. This includes:
Date of birth
Social Security Number
Government photo ID number
State of issuance
Once entered, click the CONTINUE button to proceed.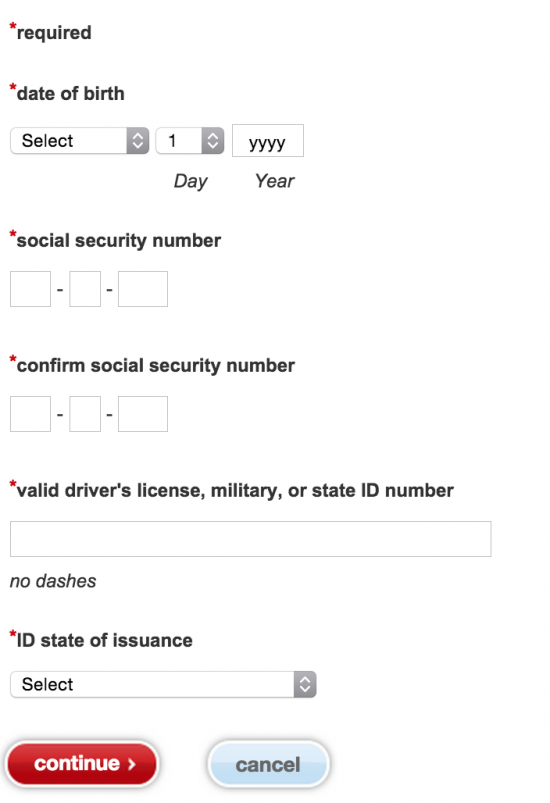 If you have any fears about identity theft Target has once again anticipated you and provided a small Identity Protection Guide to carry you through the process without compromising your security.
Step 3: Address
Worth an entire step all on its own? Probably not, but at this point Target reserves an entire page to nail down what your address is. Don't forget you must indicate if you've resided at said address for over 12-months and whether you rent or are an owner. Click the CONTINUE button to proceed.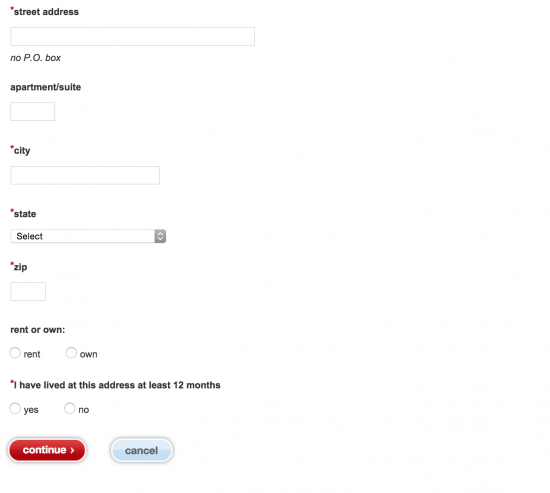 Step 4: Financial Information
Almost there! At this point in the application process you will be asked to provide some basic financial information so Target can assess your creditworthiness. The information required is as follows:
Annual Income
Active account types
Once entered, click the Review Application button to proceed.

Step 5: Review and Submit
Finally, you are asked to review your application and submit it for approval. Before doing this, however, it is advised that you give the full Terms and Conditions a thorough looking-over to ensure that you fully understand what you are signing up for.
Congratulations! You have successfully completed the application process for the Target Red Card Credit Card.