Owners of the Target Red Card Credit Card are lucky in a sense in that Target provides an exceptionally fluid and simple user portal through which you can pay bills immediately, change or update account information, view alerts and account history, activate newly received cards, and review monthly statement history. If you are looking for guidance on how to access your online account, or how to set one up if you have not done so already, all you have to do is scroll down this page and follow the login/registration guide we have created just for you.
Before proceeding, we highly recommend that you take a moment to read the online privacy policy as it explains in detail how your personal information is going to be used and protected throughout the login process.
How to Login
Cardholders must visit the login homepage, in order to begin the login process. Once there, you will be required to enter a valid Username and Password into the blank spaces provided before clicking the SIGN IN button and being given access to your online account.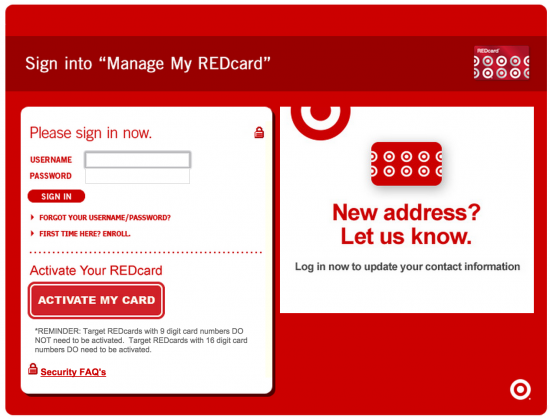 If either Username or Password or, if you've really dropped the ball, both Username and Password have been forgotten then fear not! Target has anticipated this failing of yours and installed a system by which you can retrieve and/or reset said login credentials to the benefit of everyone. Simply click the Forgot Username/Password link below the login fields and away we go! The next page, pictured below, will prompt you to enter your account information, and after a few more rudimentary questions you will be delivered gently to the comfort of your user portal with a brand new batch of login codes.

Activation/Registration
Registration, like logging into the user portal, is a simple process that can be achieved by either calling the registration number provided above or through the online registration portal. In order to complete the registration process online, you must first click the Secure registration link above. On the following page you will be required to enter the following information:
Card number
Full name
Last 4 digits of social security
Postal code
3-digit security code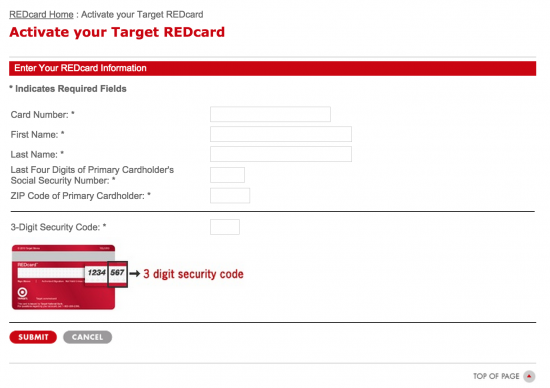 Once you are certain that the information you have entered is free of errors, you can click the SUBMIT button and consider yourself finished.