Mastercard fans have several options for rewards cards with TD, one of them being the TD Cash Back MasterCard Credit Card. This card's rewards program is standard, but just, and the card itself, being a TD offering, comes with all of the convenience of a major, longstanding bank. Specifically, cardholders will be able to fully manage their card, payments and all, from their personalized online user portal accessible via the TD website. For more information on logging in please read on for our guide.
The TD Online Privacy Policy has been made available for any and all people concerned with personal data security while online.
How to Login
Navigate to this webpage and enter your username/access card # and your password in order to login.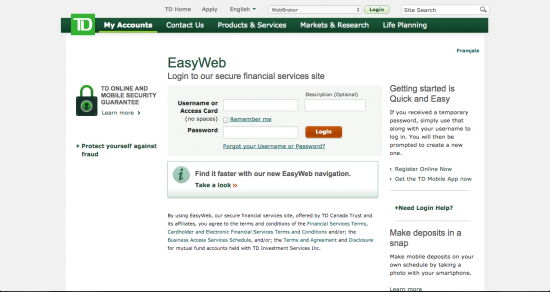 Have you lost or forgotten your login credentials? TD has created the Forgot your username or password? link for just such an occasion. Select the link in order to be redirected to a form which, if completed, will retrieve the lost information.

Activate
Individuals who wish to activate by phone must call 1-800-983-8472. All other cardholders can activate online by registering an account with TD. To do so, follow the link above and complete the registration form by which you will set your security parameters, link your card, and link any other TD accounts you may have.