The Plum Card by American Express is an excellent credit card that is completely unlike any other credit card that is offered by American Express. The American Express Plum credit card allows business owners to have a floating balance on their account for 60 days without gaining any interest charges. The card also has no spending limit which empowers businesses with an amazing purchasing power that smart business owners will utilize in order to expand their share of the market. As can be assumed, such amazing advantages come with a high annual fee of $250. If used correctly however, this annual fee will be a marginal expense for the amazing advantages this card allows businesses. If you are interested in applying for the Plum Card by American Express, follow the instructions listed below.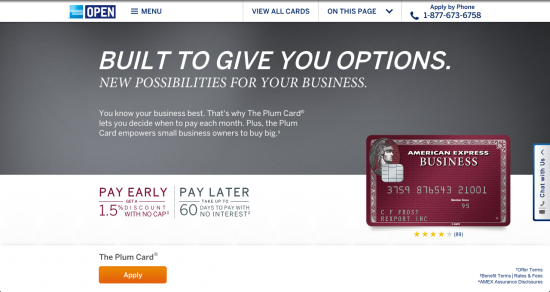 Requirements
Potential cardholders must ensure that they meet the criteria of eligibility before beginning the application process. In order to apply, you must:
Be a resident of the United States of America
Be 18 years of age or older
Once you are certain you meet these requirements, follow the steps below to complete the application process.
How to Apply
Step 1: Navigate to the secure login webpage by either clicking the link in this sentence, or clicking any of the images on this webpage. You will be brought to the landing page pictured below.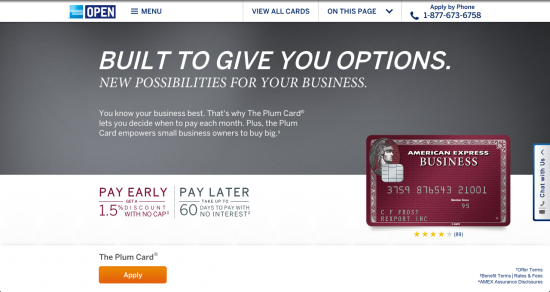 Step 2: Click the orange "Apply" button.
Step 3: Input the following information in the applicable blank field, keeping in mind that only the fields marked with an asterisk (*) are mandatory:
Your
E-mail address
Business name
Business name you wish to appear on card
Business address
Business zip code
Business phone number
Industry type
Company structure
Years in business
Number of employees
Annual business revenue
Federal Tax ID
Role in company
Step 4: Click the blue "Continue" button to continue.
Step 5: Input your personal information such as:
Your
First and last name
Social security number
Home address
Home city
Home state
Home zip code
Step 6: Click the blue "Continue" button to finalize the application process.
You can sit back and relax because you just finished the application for the Plum Card by American Express. You will be given approval or rejection of your now submitted application within 60 seconds. If you have not received approval or rejection in that amount of time, it is advisable that you contact American Express directly.