The Apple Bank Visa Platinum Edition Credit Card doesn't come with all the bells and whistles that other credit cards do, but it does boast a solid APR and no annual fee. The APR for this credit card is between 10.24% and 18.24%, with the lower option extended solely to cardholders with excellent credit (APR is subject to change). There is a 0% introductory APR offered for the first 12 billing cycles, but this is only applicable to balance transfers. The only other bonus that comes with this card is a $25 statement credit awarded upon the first purchase made, as long as it's within the first 3 billing cycles. As far as platinum credit cards go, this isn't the worst option but there are certainly credit cards out there that provide more rewards and even a slightly lower APR. In terms of Apple Bank credit cards, this card has the lowest interest rate. If a basic no-frills credit card is what you're after, then follow our short tutorial below to apply for the Apple Bank Visa Platinum Edition Credit Card today.
Familiarize yourself with First Bankcard's privacy policy before submitting any personal or financial information into the application form.
Requirements
To be eligible for this credit card, it's necessary that you fit the following criteria:
Applicants must be 18 years of age or older
Applicants must have a valid US address
Applicants must have a valid Social Security number
How to Apply
Step 1 – Follow this link to get to the First Bankcard Apple Bank credit card page and locate the Apple Bank Visa Platinum Edition Credit Card. Click on the Apply Now link to proceed.

Step 2 – You may begin filling out the application form, starting with the following contact information:
Name
Physical address
Home phone number
Email address

Step 3 – This section asks that you provide a bit more information about yourself so they can confirm your identity. Enter your Date of Birth, Social Security Number and Mother's Maiden Name into the appropriate fields.

Step 4 – Next, some information pertaining to your current living situation is required. Provide the following information and proceed to the next step:
Years at address
Housing status
Monthly housing payment

Step 5 – In order to ensure your financial eligibility of this card, enter the following information into the appropriate fields:
Present employer
Business phone number
Total annual income
Checking account balance
Savings account balance
Investment account balance

Step 6 – These next two sections, Balance Transfer and Authorized User, are optional. If you'd like to make a balance transfer at this point in the process, click the link labelled "click here" and enter the necessary banking information. To add additional cardholders to your credit card account, enter their full name in the spaces provided.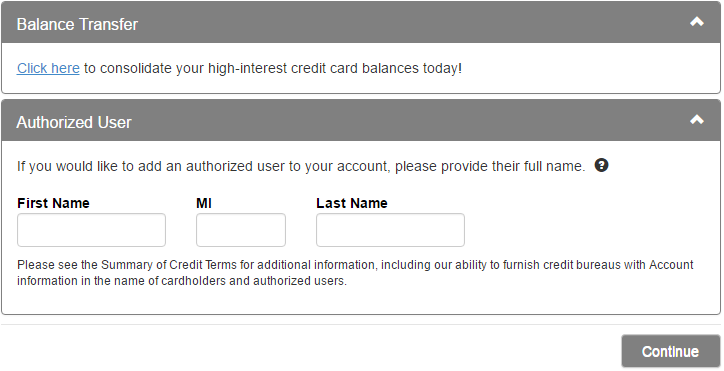 Once you are satisfied with the information you have entered in the application form, click Continue. On the pages to follow you will be given instructions on how to complete the application, including reading through and accepting the terms and conditions. We hope this tutorial helps you achieve your goal of acquiring the Apple Bank Visa Platinum Edition Credit Card. Good luck on your approval!