The Bangor Savings Bank Travel Rewards American Express Credit Card offers incredible returns on purchases in the form of travel rewards points. With an initial bonus of 7, 500 travel rewards points on your first purchase and a competitive APR, the annual fee of $95 seems more than fair. Not only that, but the ability to earn 3 rewards points for every $1 spent makes the Bangor Savings Bank Travel Rewards American Express Credit Card the perfect card for the wanderlust individual looking to getaway for cheap. If you are interested in completing the online application process, simply scroll down this page and you will find a guide we have created for you that will walk you through everything you need to know. Take the ten minutes to apply for this card, it is definitely worth it.
Elan Financial Services (EFS) has issued all of Bangor Savings Bank's credit cards. We suggest taking a look at their online privacy policy before submitting any sensitive information into their application.
Requirements
To successfully complete the application process, you must meet the following requirements:
Be 18 years of age or older
Reside in the United States of America
Have a valid Social Security Number
How to Apply
Step 1 – Find your way to the EFS card summary page and locate your Travel Rewards American Express Card, it should be the second row down, on the right-hand side. Select Apply Now under the heading to be redirected to the application page.

Step 2 – First things first, you're going to need to provide your personal and contact information. This will include the following:
Full name
Date of birth
SSN
Country of citizenship
Country of permanent residence
Primary phone number
Mobile phone number
Email address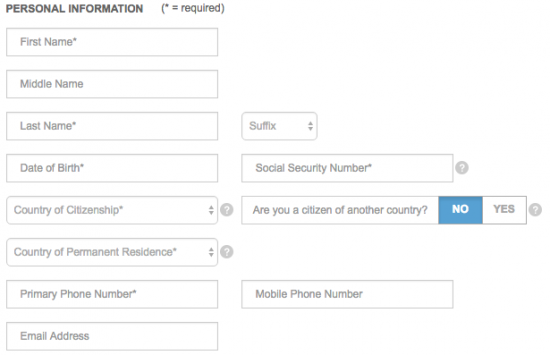 Step 3 – Your Housing Information comes next. Provide EFS with the following data pertaining to your current address:
Complete address
Time at address
Housing status
Monthly payment
Alternate mailing address (if applicable)

Step 4 – In order to ascertain whether or not you qualify for this particular card, EFS will require you to divulge the state of your financial condition. This will include the following:
Employment status
Employer
Occupation
Annual income
Other income
You must also indicate whether you have any other accounts open with Bangor Savings Bank by selecting Yes next to the account or service type that you are currently using.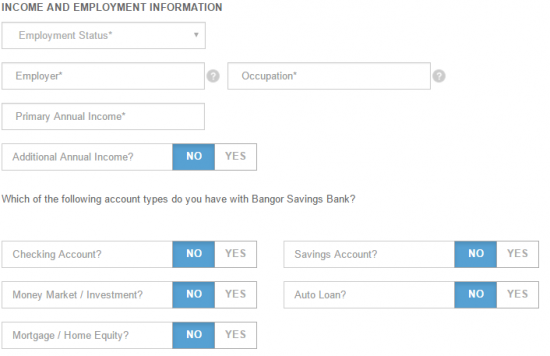 Step 5 – This section of the application provides you with the opportunity to perform a balance transfer, add a joint applicant, or add an authorized user. Select Yes next to any of these options that interest you and provide whatever information is deemed necessary. Skip this portion of the form if it doesn't apply to you.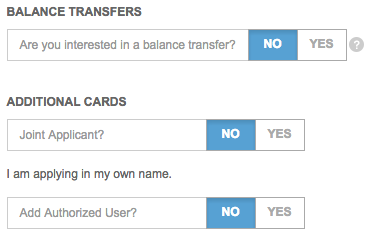 Step 6 – You will have a final chance here to review the terms and conditions of this credit card agreement. Ensure that you're comfortable with the information stated within the form, and select the box labeled I accept the Terms and Conditions to provide your consent. When you're ready to send your application in to be reviewed, click Submit.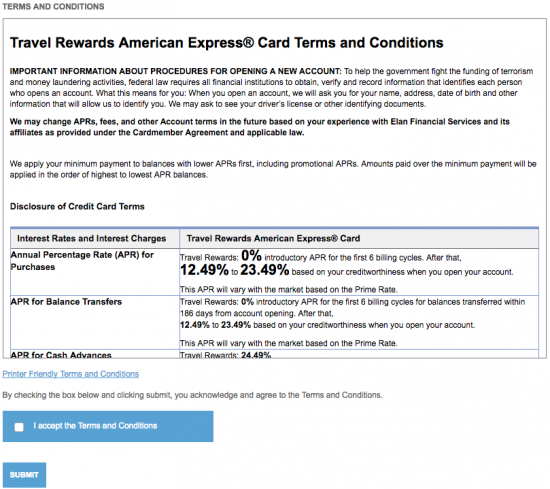 If you followed our step-by-step guide correctly, your application has been submitted and you need only await a result from Elan Financial Services. We wish you the best of luck with the outcome of request and we hope our guide has answered all of your questions today. Take care!