The Citi Double Cash Credit Card, a credit card offered and administered by Citi Bank, offers double cash back. That means 2% total cash back, or 1% when you make a purchase, and 1% when you pay off that purchase later on. If you're in search of a card with big rewards and a $0 annual fee, this could very well be the card for you.
Before we begin outlining how you can apply for the Citi Double Cash Credit Card, have a look at the Citi Bank Online Privacy Policy. It outlines which third parties your information is shared with.
Requirements
As is the case with most credit cards, there are some requirements to make sure you fulfill before you can apply for the card. Before continuing ensure you are:
At least 18 years of age
Residing in the United States
In possession of a valid, U.S. social security number
How to Apply
Follow these steps to apply for the Citi Double Cash Credit Card. If you would prefer to apply by phone, call 1-877-645-3702. If not, continue on with these instructions:
Step 1: Go to This Webpage.
Click "Apply Now" below the image of the card.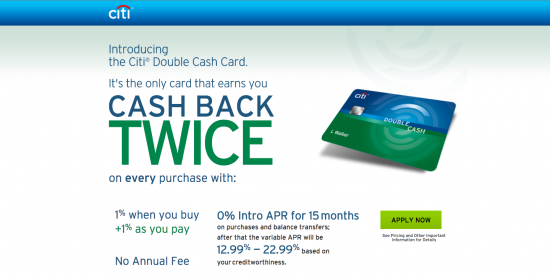 Step 2: The form you find in front of yourself is to be filled out with up to date, accurate information. Start by inputting your name, address, telephone number, and email.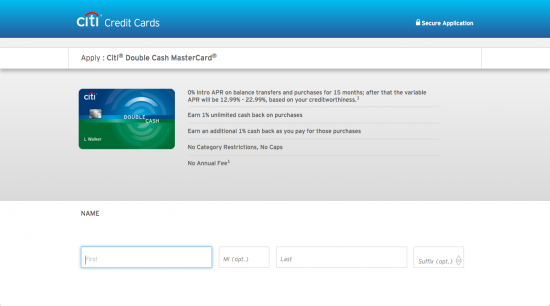 Step 3: Now input your date of birth, social security number, and a security word and hint that can be used to access your account in case you need to call Citi Bank.
Step 4: The next part of the form focuses on your financial information. Input your total annual income and your monthly rent or mortgage payment. Indicate which types of bank accounts you have.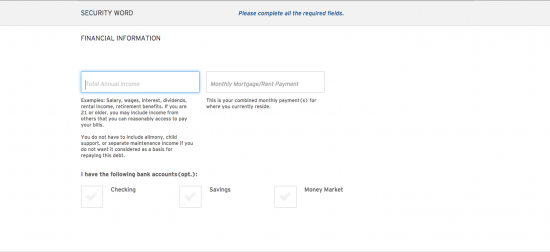 Step 5: Indicate whether or not you want to add an authorized user. Next, tick the box under "Electronic Disclosure" to indicate that you have read the terms and that you verify that you agree to them.
Also read the Terms and Conditions associated with the Citi Double Cash Credit Card. Indicate you agree with them by ticking the box beside "I have read…". Click "Submit" below and you're all finished applying for the Citi Double Cash Credit Card. Good luck with your new rewards card.