If you're looking for a new credit card that can earn you bonus points on all net purchases, the First Federal Complete Rewards Visa Card might be the right choice for you. This card has no annual fee and comes with an introductory 0% APR for the first 12 billing cycles. After that your APR will be somewhere between 16.24% and 23.24%, depending on your creditworthiness (APR is subject to change). In addition to earning 1 point for every $1 spent, you can rack up 2,500 bonus points after posting your first purchase within the first 3 consecutive billing cycles. These points can then be redeemed and put towards flights, hotel stays, car rentals, and a variety of other products. All in all, the First Federal Complete Rewards Visa Card is competitive credit card that offers a decent rewards program that is worth looking into. Scroll down to review our tutorial on the application process.
Before you submit any personal information online, take a moment to review First Bankcard's privacy policy.
Requirements
Make sure you meet the following requirements before proceeding:
You are at least 18 years of age
You reside in the United States
You have a valid SSN
How to Apply
Step 1- Click here to begin the application process. On the page that follows, scroll down and click the Apply Now tab located within the Complete Rewards Card menu.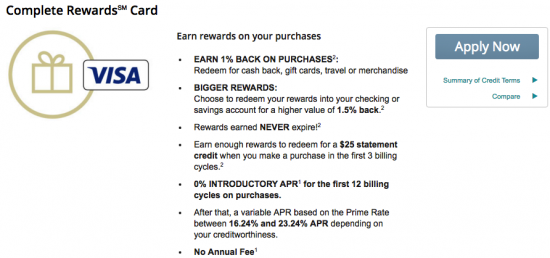 Step 2- You will need to provide some personal details in order to complete the application process. Start by providing the following information:
First name
Last name
Physical address
City
State
Zip Code
Home phone number
Email address
Step 3- Continue by entering your Date of Birth, SSN and your Mother's Maiden Name. Below that, indicate the years you have been living at the address provided in Step 2 followed by your Housing Status and Monthly Housing Payment.

Step 4- Here you will need to supply the name of your Present Employer and the associated Business Phone Number. Enter your Total Annual Income as well as the total amount in your Checking Account, Savings Account and lastly your Investment Account.

Step 5- It is possible for you to consolidate your previous balances into bill by selecting the Click here tab and entering-in your previous creditor details. You may also provide the name of an individual that you would like to add to this card as an authorized user. Click Continue to proceed.

Step 6- This page provides you with a review of the information you've submitted so far. Go over everything carefully to make sure the data is accurate. If everything seems to be in order, check the small box at the bottom to indicate your compliance to the terms and conditions associated with the card. Lastly, click Submit to send your application in to be assessed by First Bankcard. This concludes the application process. Hopefully you found this tutorial beneficial in your attempt to apply for the First Federal Complete Rewards Visa Card. Take care!