The First Hawaiian Bank United MileagePlus Credit Card is especially suited for residents of Hawaii, Guam or the Northern Mariana Islands who also frequently fly with United Airlines. With this credit card, you can earn double your points on United Airlines ticket purchases and 1 mile per dollar spent on all other purchases. Your accumulated miles can be redeemed for airfare through the United MileagePlus program. To get you well on your way with accumulated miles, you will be awarded 5,000 bonus miles upon the opening of your account. While this card does have an annual fee of $60, the APR is fairly competitive at 16.74% fixed rate (APR is subject to change). If you think that you will be able to take full advantage of this card's MileagePlus rewards program and would like to apply, scroll down and follow our step-by-step application guide.
Before submitting your application, we recommend that you take a look at the First Hawaiian Bank privacy policy to learn how they share and protect their clients' information.
Requirements
To be eligible for this credit card you must meet the following requirements:
How to Apply
Step 1 – To begin the application process for this credit card, navigate to the First Hawaiian Bank credit card page and locate the United MileagePlus Credit Card. Once there, click the Apply Now link in the card category.

Step 2 – You should now be on the application form. If you are applying with a joint applicant, click the click here link before continuing. Next, indicate whether or not you would like to include your photo on the back of your card. Below that, you can select either Talaya or Latte Pattern as your card image.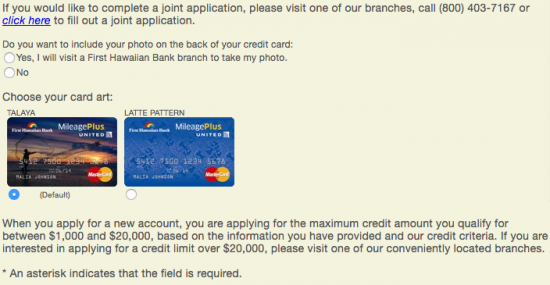 Step 3 – Now you can start filling out the application form. All fields marked with an asterisk are required information. Provide the following information into the indicated fields of the Applicant Information and Home Address sections:
Full name
SSN
Date of birth
Complete home address
Citizenship/Resident status
Time spent at current address
Home phone and cell phone number
Email address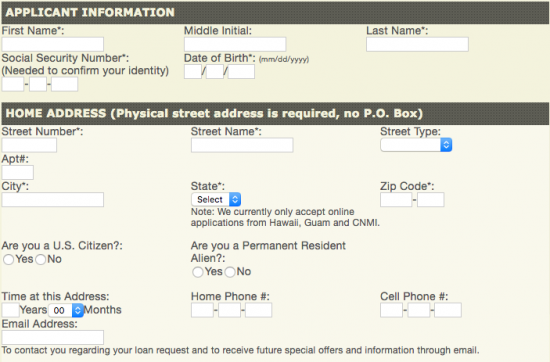 Step 4 – If your mailing address is different from your home address, enter your complete address into the Mailing Address section. Otherwise, skip this step.

Step 5 – In the Employment Information section of your application, you be asked to supply all of the information listed below into the appropriate fields.
Employment status
Name of your employer
Position
Length of time in current line of work
Length of time at current job
Work phone number
Gross monthly income
Other non-taxable/taxable income (if applicable)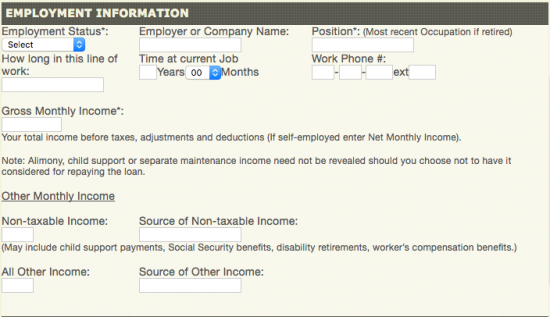 Step 6 – In this section, first select Yes or No to indicate whether you are a homeowner. Next, type the following details into the indicated spaces:
Monthly mortgage payment
Monthly rent payment
Promo code(if applicable)
United MileagePlus number (if applicable)

Step 7 – Review the terms and conditions for the First Hawaiian Bank United MileagePlus Credit Card and, if you consent to the terms, tick the appropriate checkbox below before clicking Submit.
Click Done to finish the application process.

Congratulations! Your application is now submitted for review by First Hawaiian Bank and you can expect to receive a response within 3 business days. We hope that you have found this guide to be straightforward and helpful. Thank you for visiting Card Reviews!