NEA members who have just acquired the NEA RateSmart Credit Card will be able to manage their finances on Bank of America's secure online portal. By creating an account, cardholders can log into the online system and do their banking from the comfort of their home, thus avoiding the need to wait in line at the bank. By accessing your online banking, you will be able to review your purchase history, pay off balances, and perform a number of other tasks right on their website. The tutorial below has been created to show you the few steps involved in setting up your account. Continue scrolling down for more information.
We recommend that you review the privacy policy before submitting any sensitive information online.
How to Login
Begin by clicking here to access Bank of America's secure webpage. Once accessed, enter your Online Id and Passcode into the fields located in the login menu. Click Sign In to proceed.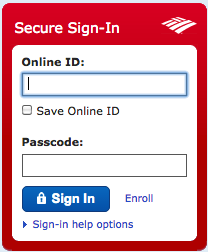 If you have forgotten your login credentials, click on the Sign-in help options tab located within the main login menu. Following that, click on one of the links to indicate as to whether you have forgotten your online ID, passcode or both. Supply your account number, SSN and what ever login information you can remember at this point. When everything has been entered, click Continue and you will be provided with the ability to retrieve your login details.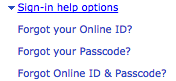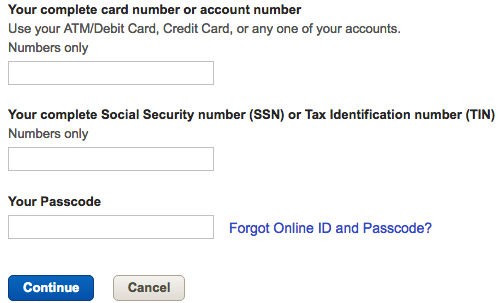 Activation/Registration
Activating your credit card is a simple procedure that can be accomplished by calling the number located above and speaking to a customer service representative. This individual will ask you for some personal information so be sure to have your ID close by. Following activation, click on the Secure registration link located above to be taken to the enrollment page. From there, click on Enroll.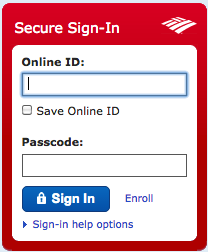 Here you will need to enter Your complete credit card number or account number and full SSN. Clicking Continue will take you to the last few pages of the application procedure where Bank of America will ask you to create a user ID and password for your account before you will be able to access your online banking.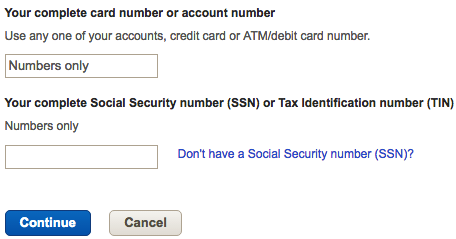 We hope you found this tutorial useful in your attempt to register for your online account. Best of luck and happy banking!