The Tampa Bay Buccaneers Extra Points Credit Card is a card perfectly designed for the proudest of Bucs fans. Wherever you go you're earning points towards a home NFL experience, with NFL DirecTV, or even tickets for the next game. It also allows you to whip out your credit card with confidence, sporting the menacing pirate flag and sword on the front. How the points system works is, users will earn 1 point for every $1 spent, and 2 points for every $1 spent on NFL purchases (tickets, in-stadium and pro shop purchases). These points can, in turn, be used to save you money on your next NFL-related purchase, or as cash back in the form of statement credit. As an added bonus, 10,000 points will be awarded after opening the account (as long as you spend $500 within 90 days of opening account). If you're someone who does tend spend a significant amount on NFL-related purchases, this card could be very useful to you. For some people it might not as be as desirable, especially if their credit score isn't that great. The lowest interest rate available is 15.24%, which is right around average. However, you could be seeing rates as high as 25.24%, which is far from optimal (APR is subject to change). If you're still very interested in the Tampa Bay Buccaneers Extra Points Credit Card and simply must have it, then we're here to help you with the application process. We've written out instructions below so you can get that card in your wallet as quickly as possible.
Barclays Bank Delaware (the credit card provider) supplies applicants with their privacy policy so they know how their information might be shared in the future.
Requirements
To be eligible for this credit card, applicants must meet the following criteria:
Be 18 years of age or older
Have a valid US address
Have a valid social security number
How to Apply
Step 1 – First, navigate to the NFL Extra Points Credit Card page. Here, you'll find more information on the Tampa Bay Buccaneers Extra Points Credit Card and an Apply Now button near the top of the screen. Click on that button when you are ready to begin the application process.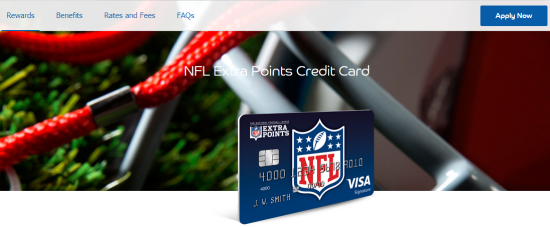 Step 2 – At this step, you can choose your team logo. Select the Tampa Bay Buccaneers from the list of NFL teams and click Apply Now.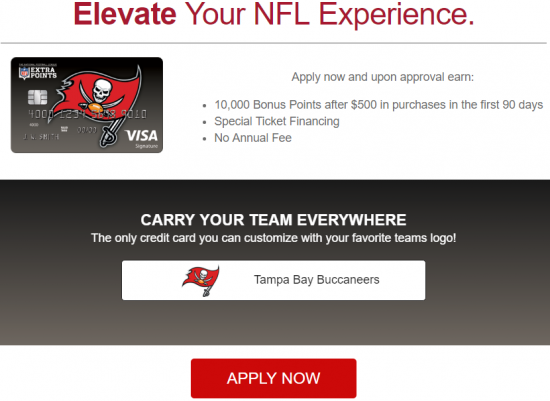 Step 3 – A few pieces of personal data are required in the first section of the application form. Enter the following information into the provided fields:
Name
Permanent address
Time at permanent address
Residence status

Step 4 – You have to submit your Occupation as well as your Total Annual Income. Next, you have the option to get your card express delivered to you. Select Yes if you wish to receive your card quicker for $15, or No if you do not.

Step 5 – It's important that Barclays Bank Delaware is able to contact you, so enter your Primary phone number (and work phone number if you wish) and your Email address. You must also select Yes if you are a United States citizen, or No, if you are not, and select your proper country of citizenship.

Step 6 – For security purposes, you are required to provide your Date of Birth, Social Security Number and your Mother's Maiden Name.

Step 7 – At this juncture, you are presented with two options; opt in for paperless statements and/or make a balance transfer. Tick the first box if you would like to receive paperless statements, then tick the second box, after reading the disclosures for this service. To make a balance transfer from another credit card to your new Tampa Bay Buccaneers Extra Points Credit Card, click on the link below the Balance Transfers section and enter the necessary information.

Step 8 – The only step left is to read and accept the terms and conditions, before clicking Apply. You will be presented with an instant response upon clicking this button. We hope that your submission is successful and that our tutorial has aided you in achieving your goal.