The Miami Dolphins Extra Points Credit Card is the perfect rewards card for the hardcore Miami Dolphins fan. The first thing you'll notice is that card prominently features the Dolphins' colors and logo on its face so that you can show your pride in your team wherever you shop. The features don't stop there: this card's rewards program gives you 2 points for every dollar spent on NFL tickets, TV packages, pro-shop and online NFL store merchandise. You will also receive 1 point for every dollar spent on all other purchases made with your card. Unlike many other rewards programs, with the Miami Dolphins Extra Points Credit Card there is no cap on rewards and your points never expire, so as long as you're making purchases with your credit card, your rewards never stop growing! Before you get too excited, take note of the fact that while the interest rate for this card could be as low as 15.24%, which is totally reasonable, it could also be as high as a punishing 25.24%, depending on the state of your credit score (APR is subject to change). We always advise being careful when applying for a new credit card if your assigned APR is going to be this high. A few other perks that come with this card are the lack of annual fee and the bonus 10,000 points if you make $500 in purchases within the first 9 months of activating your account. If you're interested in applying, we have created a guide on this page to help you complete an online application for the Miami Dolphins Extra Points Credit Card. Scroll down to get started.
This card is issued and managed by Barclaycard, we recommend that you review their online privacy policy before filling out an application.
Requirements
To be eligible for this credit card, applicants must meet the following criteria:
Be 18 years of age or older
Have a valid US address
Have a valid US SSN
How to Apply
Step 1 – To get started with the application process, navigate to the NFL Extra Points page and click the Apply Now link to continue to the next step.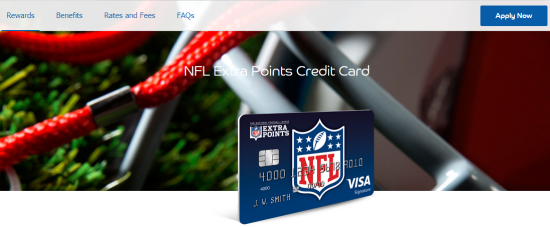 Step 2 – Select Miami Dolphins from the drop-down menu and click Apply Now to access your secure online application.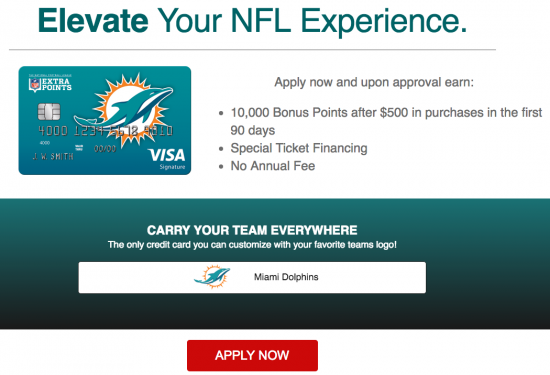 Step 3 – Now, begin filling out the application by entering the following information as detailed in the General Information section:
Name
Permanent address
Time at permanent address
Residence status

Step 4 – Complete the Employment and Financial Information section by selecting your Occupation from the drop-down menu, entering your Total Annual Income, and indicating what kind of bank account you have from the Do you have a… drop-down menu (optional). Next, select Yes or No to indicate whether or not you would like to receive an express delivery of your card for a $15 fee.

Step 5 – At this juncture you will need to provide the information detailed below in the Contact Information section:
Primary phone number
Work phone number (optional)
Email address
Citizenship

Step 6 – The following personal information is required to secure your account, these details will be used to identify yourself in the event that you have difficulty accessing your account or need to do telephone banking. Enter your Date of Birth, Social Security Number and Mother's Maiden Name in the spaces indicated.

Step 7 – Your application is just about done. In the section pictured below, there are a couple options for your account. If neither interests you, you can skip this step. First, if you would like to enroll in online statements instead of receiving your statements in the mail, tick the box marked Yes, I want to receive Paperless Statements, and then read and agree to the disclosures which outline the technological requirements that you must fulfill to enroll in online statements. Secondly, you may perform Balance Transfers by clicking the blue Click here link and following the instructions.

Step 8 – This is the final step of the application process! Review the terms and conditions for the card you are applying for to be sure that you agree to all them. When you are ready, click the green Apply link to submit your finished application. You should receive an immediate response from Barclaycard. Good luck, and we hope that our tutorial has been beneficial in helping you successfully complete your online credit card application for the Miami Dolphins Extra Points Credit Card!